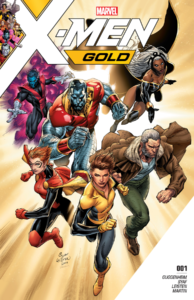 Marvel has wasted no time in jumping back into their new X-Men series after X-Men Prime. The first issue of X-Men Gold released the week after, and the first issue of X-Men Blue will follow this week. Something was muddled in Comixology so my subscription of X-Men Gold did not kick in. I realized that the comic did release several days later. Not sure if it was a Comixology error or an ID10T error, but at least I finally have the book (as well as the subscription).
I was pleasantly surprised with this very first issue. It really has everything you need from an X-Men comic: action, deep commentary, love interests, and humor. By reuniting all of the original (living) X-Men, the whole issue feels like a blast to the past. This team isn't the only piece of the everything-old-is-new-again vibe from Gold. Longtime X-Men fans will find plenty to enjoy with X-Men Gold. Fingers crossed X-Men Blue can hold up just as well.
This isn't the first time Kitty Pryde has led the X-Men in anything, and she's an absolute natural, better than Storm was for sure. She's decided that the X-Men are going to be heroes…you know, what they were since about 1963. I can't believe no one else thought of that idea before Kitty returned, but here we are, doing what X-Men do. Doing what they have always done before the terrigen mists distracted them. They're also keeping their old sense of humor as well.

So here they are, fighting a familiar foe, Terrax. When they save the day, they have to fight another familiar foe: human loathing. Mutants are somehow the enemy of the world again after their battle with the inhumans. Most of the crowd doesn't like the inhumans either, but that deep-seeded hatred for mutants has never gone away. It's been over 40 years, and they aren't going to stop hating them now.
Then we have the Days of Our Lives starring Kitty Pryde and Piotr Rasputin.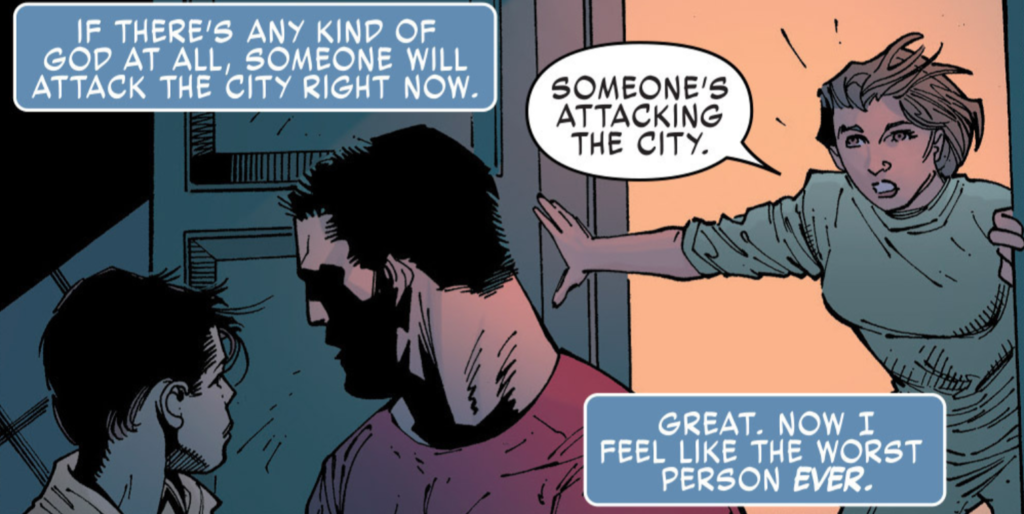 Guess who it is attacking the city? It's the New Brotherhood of Evil Mutants, and many of them have quite familiar faces!
It's easy to get overly caught up in the nostalgia of the X-Men, to go overboard on making everything new again that was once old. But it works for the characters, and it works well in this first issue of X-Men Gold. I'm very pleased with this book and have zero regrets about choosing to subscribe to it. Undoubtedly, X-Men comic fans from my generation will love it just as much and feel right at home with this team.
Also, if you're a newcomer to the franchise or have questions about other events, the back of this first book summarizes practically everything about these characters since 1963. Now I know what happened between Kitty and Starlord.
Our Rating: YUS
Author: Marc Guggenheim
Artists: Ardian Syaf, Jay Leisten, and Frank Martin
Publisher: Marvel Comics
Publish Date: 04/05/2017
Acquired via Purchase