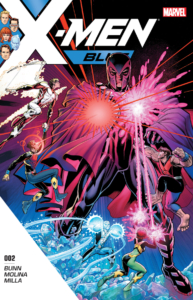 The first issue of X-Men Blue ended with such a doozy of a cliffhanger. The original five are together, in the present, doing what they have always done—fight old enemies. But as they head home (wherever home is), they report back to Magneto? It was that panel alone that made me realize I needed to stick with the young'uns a bit longer. Are they being mind-controlled somehow? These are really pod people, right? There is no way they would willingly work for this guy after the war with the inhumans, not to mention their own history with him. That also brings to mind the question of whether Cyclops knows Magneto was fully aware of what Emma Frost had done to Scott's legacy. Surely he wouldn't be okay with that, no matter if he's leader or not.
Thankfully, X-Men Blue #2 explains quite a bit as to why the master of magnetism is running the original X-Men show. They aren't pod people, and they aren't being mind-controlled. They are completely aware of who is leading them, and they're somewhat cool with it. I mean, Magneto came to Marvel Girl (Jean Grey) with his helmet off to show he has honorable intentions. He even hangs out at their new mansion (which I learned is in Madripoor) sans helmet. It really seems that this time, he honestly means the good intentions he spouts. 
Then again, we've kind of seen that all before in Uncanny X-Men. That didn't end so well for him with all of his schemes. That said, however, Magneto does not seem to be the one the team needs to worry about.
Marvel Girl doesn't fully trust Magneto (glad she does think wisely every now and then), and so she requests that the team practice in the Danger Room fighting Magneto. Once they finish, she wipes all data logs so Magneto won't notice, even though I'm pretty damn certain he always knows. During this practice, Hank and Bobby were absent. Angel set off to find where Bobby was goofing off, and Scott agreed to talk to Hank.
Everyone assumed, including me, that Bobby was literally goofing off somewhere. When Angel finds him in his room, leaving yet another sad message on his boyfriend's voicemail, pleading to know why Romeo hasn't called him back, you can't help but feel the same kick in the gut that Angel obviously does. We've all been there. We've all had that one breakup where the other person just flat out stops talking to us. When it's your first love, it's even harder. Considering Romeo is an inhuman, he could have a very good excuse and literally be too busy to answer his phone. But Bobby doesn't know that for sure, and neither do we. I wanted to go into the comic itself and hug him.
Scott actually did talk to Hank, and he tried to apologize for yelling at him last issue about using magic against Juggernaut. Hank, however, was rather a jerk. He said he was too busy to practice because he was researching, but he won't say what. Scott admits that the magic scares him a bit, and Hank dismisses him. He then lobs a low blow at Scott regarding his feelings for Jean. This is, by far, not the Hank McCoy we all love and remember from the 1960s or even the 2010s. Obviously, something has gone awry with his magical studies, and it seems to be scarier than the potential threat Magneto brings.
Am I still in for one more round? You betcha. Will I regret it? I hope not.
Our Rating: Yep
Author: Cullen Bunn
Artists: Jorge Molina and Matt Milla
Publisher: Marvel Comics
Publish Date: 04/26/2017
Acquired via Purchase