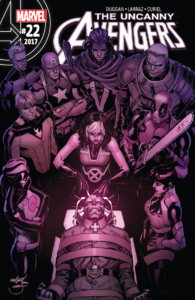 When this comic issue released on Wednesday, everyone in my little comic crew instantly made jokes. There's no way Beast finishes the surgery. Something interrupts it. You know Dr. Doom will swoop in and disrupt it. That's not really Red Skull. They won't remove all of it. Blah blah blah. Little did any of us know that the brain surgery was complete by the first panel. It was successful, Red Skull is still alive (for some reason), and the whole team is ready to high five one another while visiting Deadpool in the hospital.
There's talk of taking a break for a little bit. Wasp wants to actually go on that vacation she had planned after Ultron showed up wearing her husband's face. Johnny Storm says he doesn't want to go to the other Avengers. Doctor Voodoo is proud of what Unity Team has accomplished. Unlike the other mutant-filled Marvel comics, this finale doesn't feel like a finale at all. It feels more like a pause in the action as they all reassess, and I really hope it goes that way.
After all, they're going to be needed more than ever when Secret Empire launches, and Steve Rogers is already showing his true colors in Uncanny Avengers #22.
Of course, Steve Rogers shows up at the hospital with SHIELD agents who are probably not SHIELD agents in tow. He approaches Rogue, who is holding a box with Xavier's brain, and demands she hand it over. He insists that none of the X-Men will ever be able to keep it safe. Only SHIELD can protect it and the rest of the world from the harm it could do. Thankfully, Rogue refuses and exits stage left through the hospital wall. Johnny joins her in the sky, and the two burn the remains of Charles Xavier's brain. It's a very sad moment for Rogue, but it's one that obviously needed to happen. Not sure why they didn't cremate Charles in the first place.
Rogers is most displeased with Rogue's actions. He loudly tells everyone that Red Skull is going with him, and the confusion on everyone's faces is astounding. As they roll out, Red Skull weeps about the loss of the brain, crying that he knows Rogue burned it. He asks why they allowed it to happen and pointedly asks Steve why he in particular, allowed it to happen. Secret Empire is most certainly on the horizon.
But that's not the strangest part of the whole issue, and neither is this scene: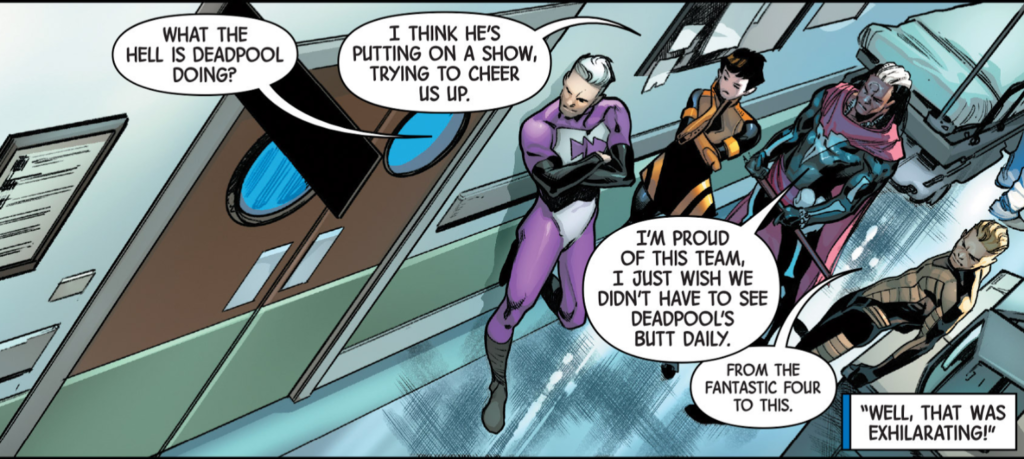 Thankfully the team didn't close out with a baseball game, an impromptu dance party, or the murder of an old enemy. The entire team went to a bar to wish Wasp off on her merry adventure, and toast one another for finally ended the Red Skull's reign of the brain. It's here the strangeness bursts onto the scene, starting with this: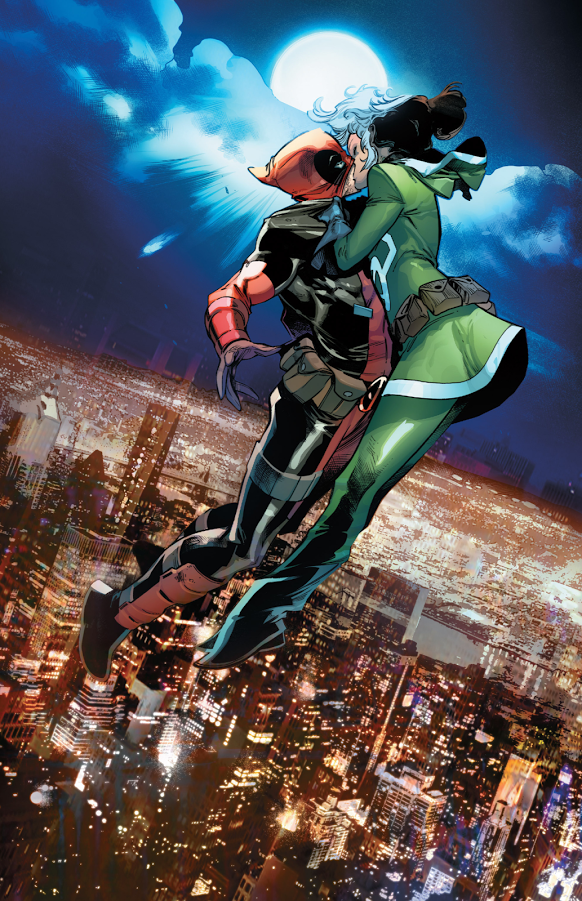 I honestly never saw that coming. I also never saw the next thing coming. Remember a certain loose end from the end of the 2012 run of Uncanny Avengers, one involving Wonderman? Yeah, that's getting tied up it seems. I suppose I should be thankful that they're addressing it at all and not simply sweeping it under the rug into oblivion.
In other words, Uncanny Avengers isn't ending…yet!
Our Rating: Yep
Author: Gerry Duggan
Artists: Pepe Larraz and David Curiel
Publisher: Marvel Comics
Publish Date: 04/05/2017
Acquired via Purchase