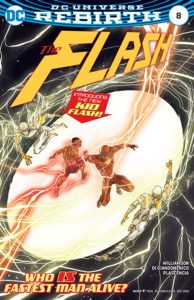 This Flash story arc has been a weird one to say the least, but I'm happy to say it has wrapped up. It's even wrapped up on a somewhat happy note, complete with Barry smiling again. I think we're all tired of sad Barry being sad. This arc also ended with something no one could have seen coming: the official introduction of Wally West as Kid Flash. I mean, seriously, we've never had a Wally West serve as a Kid Flash before.
Issue #8 begins with the Flash still chasing Godspeed on his way to Iron Heights to kill everyone within, especially Eobard Thawn, a/k/a Professor Zoom a/k/a the man who killed Barry's mother. I particularly love that Godspeed keeps yelling that he's doing this for Barry as his friend. I can't help but think of that overly cheesy scene in Rudy where the star football player tells Rudy that that touchdown was for him. At least that wasn't so…murdery. 
Godspeed may be the current fastest man alive, but he lacks something Barry Allen has: a knack for science. In addition, since Barry has been a speedster for far longer than Godspeed, he knows a bit more about how the speed force works than him. He can't outrun Godspeed, but gosh darn it, he can out-science him.
And then, for Flash's next parlor trick, as he whines about how he was never able to be in two places at once like Godspeed, which is why he always had a sidekick, a sidekick suddenly appears! I wonder what Flash will summon next by being sad. Aw crap, is that why he's been so mopey these last several issues? Is it because being sad makes his wishes come true? Well this has gotten depressing. Will my wishes be granted too?
So oh yeah Wally speeds in, and when Flash gets Wally to help him take down one of Godspeed's doppelgangers with, once again, science, Wally magically creates the signature yellow Kid Flash suit.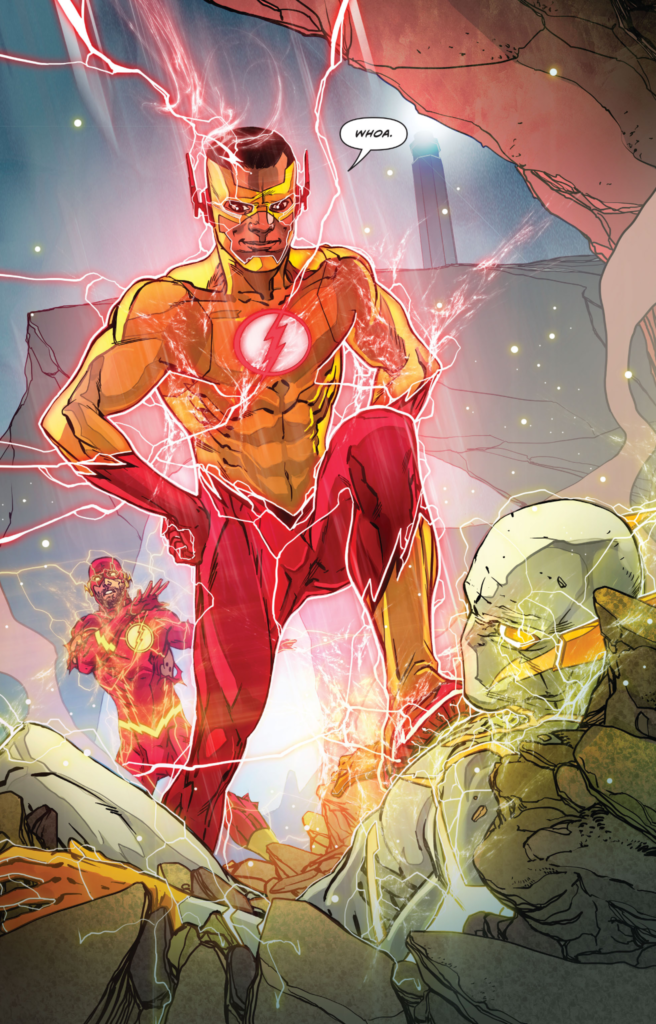 Yes, Wally. Whoa. Who knows where the suit came from. Never mind that Barry designed and made his, and that's why he can vibrate into the suit; Kid Flash doesn't need to know anything about making a suit or the original colors of Kid Flash. He can just make one out of thin air and have no idea how he did it or where it came from. That's just how amazing Kid Flash is.
I know I'm making plenty of jokes about Kid Flash and this storyline, but it was closed very nicely. I'm not going to spoil too much as to what ultimately happened with Godspeed, because some things do need to be read to enjoy that "ah-ha!" moment. I will say that Flash ensured he exercised justice on Godspeed instead of misplaced vengeance, and he has officially teamed up with Kid Flash. That said, he has not forgotten about Red Wally West, a/k/a Flash (not the Flash), who is running around with the Titans.
It's about time that the era of the mass speedsters has come to an end. There are plenty of hints that this is not entirely the case, but for now, it's good we have just the Flash, a Flash, and Kid Flash with Reverse Flash, Zoom, and Godspeed in Iron Heights. I'm sure more are coming, as for whatever reason, Flash has to have numerous speedsters around.
Anyone else miss the Rogues Gallery? No? Just me then? Okay.
Flash #8
Author: Joshua Williamson
Artists: Carmine Di Giandomenico and Ivan Plascencia
Publisher: DC Comics
Publish Date: 10/12/2016
Acquired via Purchase
Our Rating: Yep