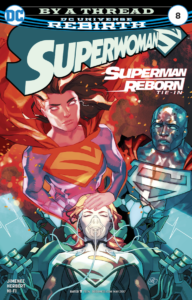 Fairly certain I've said this before, but regardless, I'm going to say it again: Superwoman makes me feel so dumb. I don't know if it's because I'm not reading other Superman comics and therefore missing key references. Maybe it's because it's not written well. Or maybe I'm just really dumb when it comes to this plot. Lena Luthor's storyline was convoluted enough, but near the end, it started to piece together. But intermixed in all that has the ghost of Lois Lane that only Lana can see, but Bizarro Superwoman #1 can see her too. Before that could be explained, a real Lois Lane showed up, but she doesn't look like the Lois we remember before she died. Her hair is shorter and it's a lighter brown. Since I don't read the current Superman comics, she could be the other Lois Lane. From brief panels I've seen, as well as DC Universe Rebirth #1 she likely is.
If so, that doesn't make much sense. How would she know where Lana was if she wasn't the Lois we already knew? Even more strangely, when this Lois witnesses Lana breaking down, she tells John Henry that this same thing happened to the "other Lois," and it also happened to her. Which is what, exactly? And which Lois?
Not that I get to really find out, because #8 takes an acid trip into weird, something I can only call superception.

The entire issue takes place in Lana's head, at least that is what I assume. Since Lana is dying or dead, it makes sense that she would talk with others who have died, which she does throughout most of the issue. Her late parents and brother, and of course, Lois and Clark. After she's done getting her aggression out on the two of them, and she does have some valid concerns, they seem to talk it out. Lois tells her she has to wake up. They also tell her that they need her powers that are killing her, and she gladly does it.
The strangest part though, comes when Lois tells Lana that
The universe chose you for a reason. Because it knew you could be a bridge. You, of all people, you could protect the past and connect it to the present…And it's here [Kansas] where this chapter will end. I promise you—this wasn't for nothing.
And so she's not going to remember any of this. Possibly nothing about her relationship with Clark or Lois at all. Why is that? Lois says it's about their son, which this Lois and Clark do not have, but the others do. (Gee, wonder why I get confused.) As such, Lana is somewhat okay with all of this being erased from existence.
She suddenly wakes up in John Henry's lap and tells him she dreamed of flying. The next thing we know, she, John, his niece, and her girlfriend are all brandishing Ses and running out the door to save Metropolis from a burning building. Then the last panel drops, depicting Lana in some sort of Star Wars-esque rehabilitation chamber with John Henry begging her to come back to him.
We had a dream within a dream within another dream? My brain hurts, it really hurts. I thought this issue would explain the tale of two Loises, what happened to Lois and Lana, and a multitude of other things. Maybe I have to wait until next month, as that issue is entitled, "Awakening!" I feel like Superman and the Supermen are always such a jumbled mess. Or perhaps I'm not smart enough to "get it."
Either way, I really need Superwoman to fall into place soon.
Our Rating: meh
Author: Phil Jimenez
Artists: Jack Herbert and Hi-Fi
Publisher: DC Comics
Publish Date: 03/08/2017
Acquired via Purchase