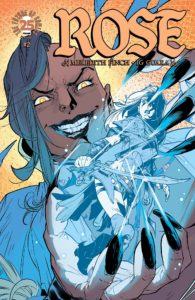 Rose #2 is still well within the set-up stage of its story, which means it's still hard to provide too much by way of analysis. We get the first glimpse at Rose's powers, and a hint at the world's reaction to magic, and most important, we get our first glimpse of Thorne. Aka, the reason I came to this comic in the first place. OK, that's not entirely accurate but c'mon, it's a giant magic cat. What's not to love?!
The first issue went a long way to establishing that Druscilla has clearly outlawed magic in the realm. I'm not sure what to make of the reaction to Rose's magic by her new companions. I imagine magic would be much maligned in a time when villages are burned to the ground via witch hunts, but the confusion over the possibility of her magic seems a little at odds. I suppose we'll have to see what comes in later issues, especially as Rose wrestles with the realization that her village perished because of what she is.
The real meat of Rose #2 is the further world building Meredith Finch is establishing. It's one thing to tell us Druscilla is an evil $#@%, it's another thing to show us her handiwork. Despite not knowing the mysterious figure chasing Rose, it's clear this once-mighty warrior has suffered at the hands of our evil mistress. It's a nice touch that works well with the series.
The truth is, Rose will have to work really hard to make me not like it. It's classic high fantasy, a female hero, and the biggest, baddest damn cat you've ever seen. So long as the story manages to stay on track and keep pace with its own mythos, I foresee this being a solid fantasy series. Which is a lot harder than it sounds, actually.
Our Rating: YUS
Author: Meredith Finch
Artists: Ig Guara
Publisher: Image Comics
Publish Date: 05/17/2017
Acquired via Purchase