At the end of January, Image Comics teased us with the reveal of a new high fantasy series, Rose, starring a female hero of the same name, and her giant Khat, as they embark upon an adventure. Given that I love fantasy, female heroes and Image Comics, I was pretty stoked.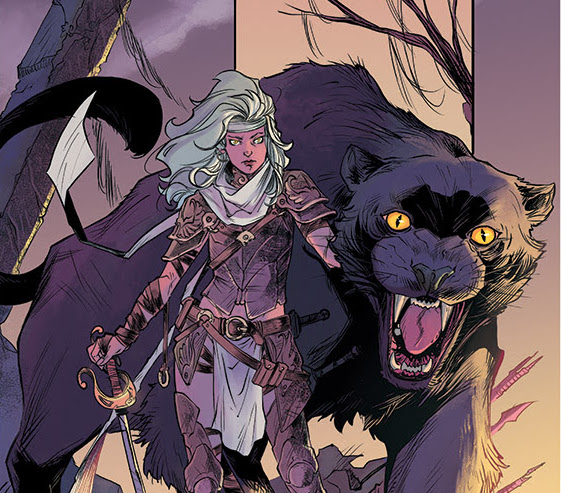 Series author Meredith Finch sat down to answer some of our burning questions about the series, and the fantasy landscape at large. After speaking with Ms. Finch, I'm not only super excited for the series, I might be a lifelong fan. (Also, the editorial team may or may not have had a conversation about whether it was professional to ask her to marry us. We decided it wasn't … yet.)
Yelling About Comics:  What inspired you to start this series?
Meredith Finch: ROSE is a project that David and I had been talking about doing even before I started writing comics. I have always had a passion for fantasy fiction. I think that's why I connected with Wonder Woman so easily. While she is a super hero, her roots are in Greek mythology. Coming off of Wonder Woman I knew I wanted to write the sort of character I could be passionate about, but without the restrictions of working in a well-established universe. It really just seemed like the perfect time to throw myself into ROSE.
YAC: The fantasy genre, within comics, has become rather formulaic (best word I can think of) in recent years. How do you envision Rose changing the landscape?
MF: When you break it down, all fantasy stories, even LOTR have a formula. At the center of that is the Hero's quest. I don't necessarily believe that what makes a story stand out is the ways in which we deviate from a reader's expectations. There is a contract if you will between the reader of a specific genre and the writer. If I read a Steven King novel, I know what I'm going to get, similarly if I read John Grisham. I think what makes a story special is the ways in which a writer can get a reader to connect with a certain character or characters. That's what I want for Rose. I want my readers to be able to authentically experience either what she or another character is going through, and then on some level relate that back to their lives.
YAC: When we look at iconic, female-centric fantasy stories, Red Sonja and She-Ra spring to mind. How do you think Rose will compare and contrast when them?
MF: The essence of Rose is her innocence. She is not a warrior like Red Sonja or She-Ra, she is much more the unlikely hero, a young girl caught up in something she doesn't really understand and ultimately as the story progresses we'll see that contrary to what people try to turn her into, she doesn't need to change who she is to save the world. Her power is only realized by being true to herself.
Rose is not a story of female empowerment by rejecting men, or being stronger than a man. Rose is a story that embraces the things that make women unique and special without emasculating the men in the story. I'm the mother of three boys, so it's incredibly important to me to share the idea that being a strong woman doesn't need to come at the expense of masculinity.
YAC:  Of all things that caught my eye with Rose, the fact that you have a female villain, really enticed me, because we don't see a lot of strong female villains. Why do you think that is? Are they harder to write?
MF: A female villain is actually much easier and much more fun for me to write. I love the idea, the lusciousness of being evil and exploring the darkness of a soul in a way that you can't really do in real life. I'm not sure what that says about me. Maybe I spend too much time alone in my thoughts.
All of the women in this book are incredibly strong characters. Drucilla, Ila, Rose are all ways for me to explore the idea of womanhood and femininity and what it means to be strong. In many ways, I think when you look at them together they are snapshots of experiences or places we have all been in our lives.
YAC: Can you just rave, for a moment, about Thorne? Because Thorne looks awesome.
MF: OMG! I love this character, I love it every time Ig draws him, I love how Triona colors him. I love writing him, I love, love, love him. I wish he was real. Seriously!
I loved the Narnia series as a child, and I have probably read it more times than I would care to admit. When Dave and I first talked about Rose, years ago, I had the idea of A Horse and his Boy in my head. Ultimately it just didn't feel like there would be a powerful enough connection and a horse isn't really threatening. I wanted something that would really contrast with the innocence and gentleness of Rose. I think that Thorne is my version of Aslan and it could not have turned out better.
YAC: I know you wrote Wonder Woman for some time, does Rose have anything in common with Diana?
MF: I think the single biggest thing that Rose and Diana have in common is love. I was very clear in my Wonder Woman run to show that love was the characteristic that I felt most strongly represented who and what Diana stood for. I think this is really reflected in Rose as well. They both have such big hearts and so much compassion and an ability to forgive and see the best in those who have lost the ability to see any goodness within themselves. And much like Diana tried to bring Donna Troy on a journey from darkness into light in our run, Rose is going to try to do that in this story.
YAC: What's the one take-away you hope people get from Rose?
MF: I feel like there is a lot of pressure on female comic book characters to be very one dimensional right now. They have to be stronger than, smarter than, better than their male counter parts. So much so that we are replacing established male characters with female leads. I want to readers to connect with Rose because she's an exciting character that reflects something they feel about themselves, not because she is replacing or rejecting something. There needs to be room in comics for multiple and complex expressions of what it means to be a woman, because woman and men for that matter are complex. This is a story that acknowledges that power and strength come in many forms but it doesn't come from exclusion or rejection and we don't need to be anything more than true to ourselves to find magic.
YAC: As a slight teaser, do you have any favorite panels from the first issue that you think really stand out defining the series?
MF: I love, love, love page five in issue one. If you've seen previews than you've probably already seen it. It is just so incredibly, visually beautiful and I think it speaks to something else that I felt was important for this book. Comics are first and foremost a visual medium. There is so much emphasis on writers right now that I think we are missing or forgetting about something that is equally as important… the visuals that tell the story. I knew right from the beginning that the look of this book was as important to me as telling a great story. When I saw Ig Guara's samples it was love at first sight. He has such an incredible way with facial expressions and storytelling. I firmly believe that a great artist can elevate a story, and I know without question that Ig has done that for ROSE. There is a scene with a horse in issue two. It's not a big panel, but he took the time and understood that characters enough that even the horse has an expression of distain on its face. They are such subtle things, but they make such a huge difference in creating a world that draws the reader in. When you add the color work of Triona Farrell to the incredible artwork Ig is doing I think you have a visual masterpiece.
YAC: I've heard authors say that some comics start with a clearly defined beginning, middle and end, and others are created very openly and progress naturally, from issue to issue, with no clear end in mind. Do you have a set story in mind for Rose?
MF: I would definitely put myself in the second category. Especially when it comes to ROSE. I knew roughly what I wanted to do in a broad sense, but it takes me time to get a real feel for my characters. I would liken it to dating. The more time we spend, the better we know each other and the more complex our relationship becomes. It is almost as if the characters start to write their own story and tell me what needs to happen next. Coming off of Wonder Woman where I felt really restricted by the six book story arc, I'm really enjoying the freedom of allowing this story to progress at its own pace.
YAC: As a comic fan, I love sharing comics with my daughter, especially those with strong female protagonists. Will Rose be an all-audiences story, or more of a mature-only affair?
MF: As a mother, it was very important to me that this comic be approachable. I don't enjoy comics or TV shows with extreme or gratuitous violence and you won't find that in ROSE. That doesn't mean dark things don't happen, it just means that we have made artistic choices to show them in a way that leaves it to your imagination rather than graphically showing it to you on the page. There is some sexuality and some course language, but again, only in places where it is appropriate for the character or situation. ROSE is being released at a T rating.
YAC: Bonus question Who is your favorite super hero, and why?
MF: There can't be any other answer here than Wonder Woman. I just love her so much. I love the excitement I see on the faces of my children when they see Gal Gadot as Wonder Woman, I love the sense of empowerment she gives women, but I also love that everything she does is about raising people up, and helping them to become the best version of themselves.
---
Rose #1 hits virtual and physical stands on April 12, 2017.