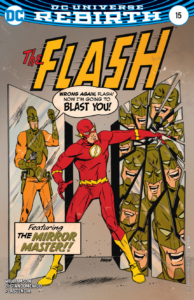 Gee, Flash. You became obsessed with finding the Rogues and learning what they were up to. You find plans in a secret lair for a major heist. Naturally you rush to stop said heist. But did you ever stop to think that maybe it was all too easy? Perhaps it was a setup for something greater?
BECAUSE IT WAS, GENIUS. I think the readers saw it a mile away, even before the Rogues asked if he bought it.
Barry Allen, I really do love you, but sometimes, you're incredibly thick. Clueless in romance. Clueless in seeing obvious traps. It's a good thing you're so good at forensic science.
Flash does show up to the heist just in time to stop it, but he realizes far too late that it was all a sham. It was a distraction, courtesy of Mirror Master (still a dumb name), to get Flash out of Central City. There, the rest of the Rogues were all split up wreaking havoc and breaking hell loose.
Seriously, who would have seen that coming?
The answer is, we all did. It was all too perfect, from Flash finding the plans to how Mirror Master was "stealing" a priceless statue. He seemed far more concerned with keeping Flash busy instead of running off with the treasure, which he could have while he had Flash battling his Mirror Monster.
Once he realized they were all really in Central City, he panics because he has no idea how or where to find them. I'm sure Wally knows where at least one of them is, Flash. He should have still been in Central City while Flash zipped off to Corto Maltese. Then again, maybe he's off with the Teen Titans? Eh, who can keep track where anyone is these days?
Next issue is supposed to be a showdown between Flash and the Rogues, and I hope that's it for this arc unless they're going to go somewhere deeper. Right now, this is a little stale.
But the art…Di Giandomenico and Plascencia know how to bring a beautiful Flash to life.
Our Rating: meh
Author: Joshua Williamson
Artists: Carmine Di Giandomenico and Ivan Plascencia
Publisher: DC Comics
Publish Date: 01/25/2017
Acquired via Purchase