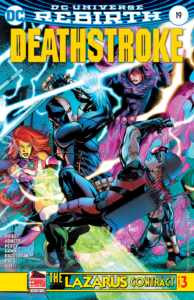 Deathstroke #19 would be great for those who never read an ounce of the series. I can see how those who only read Titans or Teen Titans would need some of this background information regarding Deathstroke and his lovely relationship with Grant. On the one hand, I'm happy to read a crossover that actually caters to series newcomers. On the other, I feel like not much happened in this issue.
Don't get me wrong; when things did happen, they were very significant. I needed some more meat in the middle instead of as bookends. It reminded me a lot of reading Moby Dick (of which I've read way too many times), where most of the plot points occur in the beginning, a few chapters in the middle, and at the very end. If you're familiar with Deathstroke lore at all, then you really only need the first few pages and the last few. But I suppose even Deathstroke fans need a recap every now and then.
The beginning touches on Flash Wally chasing after Deathstroke to try to stop him from going back in time, now that he has some of the speed force from both Wallies. Deathstroke challenges Flash, and Flash decides that maybe he shouldn't take on Deathstroke alone. That's when he runs into Jericho, who appears to be very well after whatever happened to him on his wedding day. (Seriously, that will be addressed soon, right?)
We also learn what the Lazarus Contract is between Dick Grayson and Deathstroke. Since Slade blames the Titans for his son's death (not the HIVE, of course not), he tells Robin that he won't kill the Titans if Robin promises to keep Rose from growing up like her father. Honestly, it's not as cool as I had built up in my mind.
The last couple of pages, Deathstroke runs into the time stream and right into his son, Grant, as he is setting out to kill the Titans. He hugs Grant for possibly the first time, at least the first time in the DC Universe Rebirth series. If Slade had done that to begin with, who knows how differently their lives would have run. Maybe Grant would have run away regardless. Maybe he would have stayed. Maybe Joey's throat wouldn't have been slashed. Maybe that would have happened anyway.
I think the moral of the story here, kiddos, is to hug your children. Then you won't feel the need to kidnap people, steal their speed force, and run back in time to hug your kids in the first place. It's a pretty darn good lesson to learn.
I have no idea how this will all wrap up with the Teen Titans Annual #1. If he does go back in time and stop Grant, how much of the timeline will change? If he doesn't stop Grant, does the timeline change somehow anyway? Will Dr. Manhattan twirl his blue fingers around and stop Deathstroke? (P.S. if that's how it does end, that's the worst deus ex machina in the history of deus ex machinae.)
Our Rating: meh
Authors: Christopher Priest, Dan Abnett, and Benjamin Percy
Artists: Larry Hama, Carlo Pagulayan, Jason Paz, and Jeromy Cox
Publisher: DC Comics
Publish Date: 05/24/2017
Acquired via Purchase