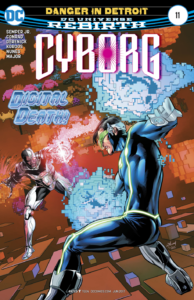 As a superhero comic book reader, I can obviously swallow a lot and suspend my disbelief as long as needed. Sentient hammer? Okay. How many Flashes would flash Flash if Flashes would flash Flash? Sure, all right. I know it's all ridiculous, but it all comes together in the end somehow.
Issue #11 of Cyborg, however, pushed my ability to embrace the batshit world of superhero comics. I rolled my eyes numerous times. I snorted out loud at the absolute stupidity of this plot. Just when I thought this was going to go down as the dumbest story I've ever read in comics (hoo boy would THAT be a doozy), I was served an about-face and a swift punch to the gut.
The eye-rolls were replaced with brimming tears. A dropped jaw stopped all snorts of derision. Much like Victor Stone himself, you cannot take this particular issue at face value. As soon as you underestimate it, you're down for the count.
So how ridiculous is this set-up? Well, I'll tell you…
<cue Monty Python's "He's Going to Tell">

Cyborg was about to have a death nightmares are made of: being eaten alive. Due to his processors taking a hit from Anomaly and his malware, Cyborg can't regenerate his tissue as quickly as the rats are gnawing it away. He doesn't have enough power to obliterate enough rats to allow a chance to break away. So, he focuses what energy he does have left into opening a boom tube and escaping. However, his teleporting ability isn't that functional at the moment, leaving him in a bit of limbo as he slowly moves from one location to the next. This is all he needs as an environment with zero oxygen takes care of the nibblers in a hurry.
One problem down, but he has 99 more to go, such as figuring out how to regain control of his boom tubes so he'll know where he's going. He tries to get back to Detroit, but instead, he ends up in an 8-bit video game. It's not just any video game, it's one that he and his best friend Keiji created at computer camp one summer. And oh look! Keiji is here and boy is he angry.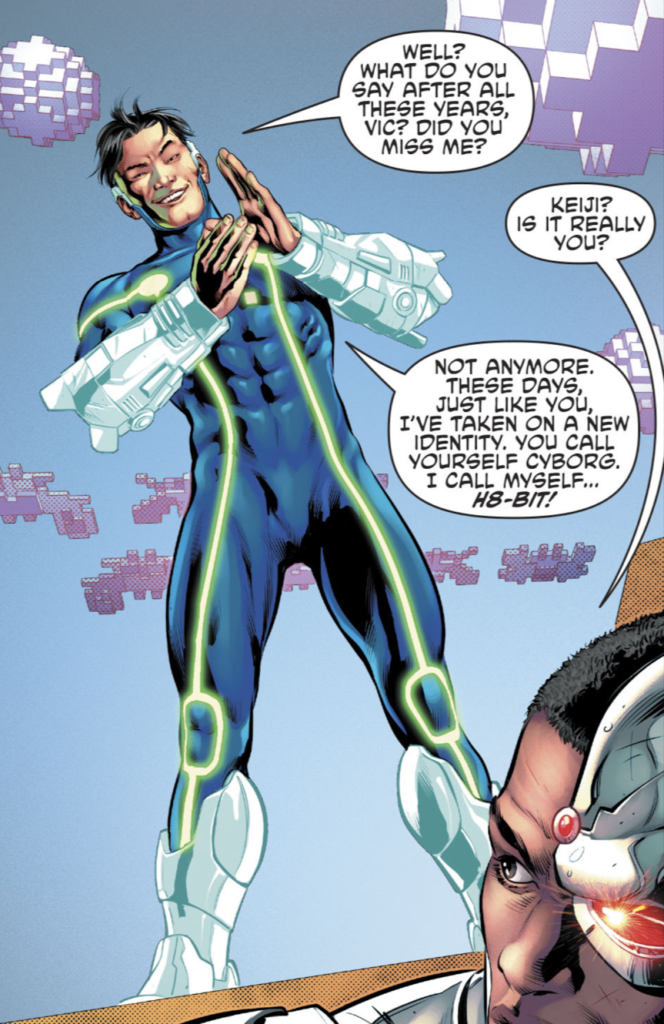 H8-Bit. That's a thing. His superpower? He has the ability to manipulate and create 8-bit objects at will. Yes, you read that correctly.
Keiji is a little mad at Cyborg, because while at computer camp, Victor talked Keiji into hacking the STAR Labs computers to play a prank on his Dad. Evidently, Keiji didn't stop with that prank and sold secrets to some really nasty people who did some really nasty things. Keiji was caught and thrown into juvenile detention. He blames Vic for giving him those passcodes to STAR Labs, because seriously, Vic should have KNOWN he wouldn't be able to help himself. Also, Vic never visited him in juvie.
Coincidently, this all happened around the same time as Vic's accident. One thing we learned early on in this Rebirth series is that Dr. Stone locked away traumatic memories to make the transition from human to cybernetic being a bit smoother. Keiji's arrest was most likely one of these memories, so Vic couldn't remember either Keiji or his arrest. It's only now slowly coming back to him after Anomaly jarred his memory locks.
The battle between them is even more ridiculous than the entire premise of where Vic even is. But when it's over, Vic learns a horrible truth about his former friend—there is no friend to save. Keiji was beaten to death in juvie years ago for being a computer dork.
Dr. Stone's decisions with Cyborg and his memories worsens by the day. It's really hard to not see Dr. Stone as anything but selfish. He ignored his son to save his wife. Continued to ignore his son to perfect his work. Then he decided which memories Vic didn't need to keep him alive as a cyborg, and never gave them back. He had to have known that Cyborg's friend was arrested and in juvenile detention. Did he purposely block that memory to keep Cyborg away from a possible bad influence? Or was he so wrapped up in his own desires, he didn't even think of what his son would want, much less the people around him.
Things are going to get so much uglier before they get better.
Our Rating: Yep
Author: John Semper, Jr.
Artists: Will Conrad, Tom Derenick, Tony Kordos, Ivan Nunes, and Guy Major
Publisher: DC Comics
Publish Date: 04/05/2017