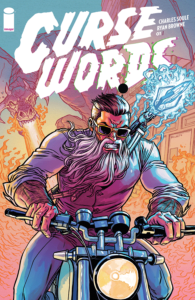 Image has been both knocking it out of the park, and killing me (Smalls) as of late. On one hand, Image is publishing a lot of great books. On the other, I feel as though all of my series are on hiatus. What's a girl to do? Oh, how about check out Curse Words #1, the latest series from Marvel-regular, Charles Soule?  The series is about a wizard that comes to modern day New York City and begins to wreak havoc; what can go wrong?
The short answer is: I don't know. As far as a first issue goes, Curse Words #1 is pretty solid. It introduces us to our main character, Wizord, as he adjusts to life in NYC, and reminds us that perhaps Wizord is not as cool as he seems. In fact, he might be downright evil. Or at least true neutral and not at all concerned with what happens to our world.
Visually, the series is super fun. Wizord channels the right amount of hipster cool, and he has a talking rat-cum-koala partner which already has a fan base (#teammargaret). Wizord's multiple enemies, of which we've only seen a few, are appropriately silly and tongue-in-cheek, which fits well the the smattering of cultural commentary throughout the series.
My sole complaint is that some of the jokes are very much "low-hanging fruit" types of offerings. Which isn't the worst crime, but it does mean that some jokes fall almost entirely flat because of it. Ultimately, it prevents the issue from establishing a really great, new comedic offering, and instead presents a middle-of-the-road wink-and-nod style series.
Of course, first issues are always hard to review because it's impossible to know where the series could go from here. It's possible Soule and team are just waiting to unleash their full potential, which I hope is the case. The concept is really promising, and it's very stylish. It just needs to work on its routine, a smidge.
Our Rating: Yep
Author: Charles Soule
Artist: Jordan Boyd, Ryan Browne
Publisher: Image Comics
Publish Date: 01/18/2017
Acquired via Purchase