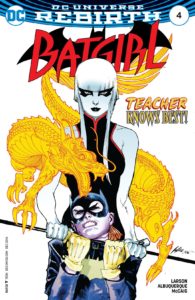 The first story arc of Batgirl Rebirth is finally picking up, in Batgirl Rebirth #4, but I'm still not entirely clear on how the series will tie into the larger Rebirth arc, on the whole. The story itself is interesting and intriguing, but given what I know about other Rebirth arcs, I'm not seeing the cohesion that DC keeps talking about.
As Barbara continues to hunt down the elusive "Teacher," It's becoming more and more apparent that her buddy Kai is not exactly on the up and up, as he claims. Technically, that's a memo we got as soon as he walked into Babs' life, in issue #1, but here we are. He's breaking the law, mmkay? Intentionally. Got it? OK, good. Let's move on.
Teacher's motivation is finally revealed, as well. Or, rather, teacher's minions. It's an oddly heartbreaking moment, as Hardhat (yes, that's his name, apparently) reveals that his life — and the lives of his fellow henchmen — are depressingly predetermined. Someone as malicious and vindictive as Teacher would have a demographic ripe for the manipulation. I almost applauded, on the train, when Batgirl decides on a higher path, versus the minions.
The real question though, is why they want this super virus. Its effects make it sound awfully similar to Venom, except a little more on the grotesque side. What Neil Barry could hope to accomplish with this, other than super strong, super smart minions, remains to be seen. I'm particularly excited to see what it does to Teacher, who already appears to be a step ahead of the game.
I want to applaud Hope Larson, in general. I'm a fan of her dialog — it's sharp, snappy and to the point, always — but her take on Batgirl is really something special. Barbara has always been my favorite member of the Batfamily because of her humanity and normalcy, despite leading a decidedly non-normal life. But in Larson's hands, she feels even more normal and human. Yes, she speaks a dozen languages, jets around the world, owns a company and kicks ass in a costume, but her inner-monologue and actions always make her feel so grounded. I lost my faith in Batgirl, as a series, for awhile, and Larson has renewed it ten-fold.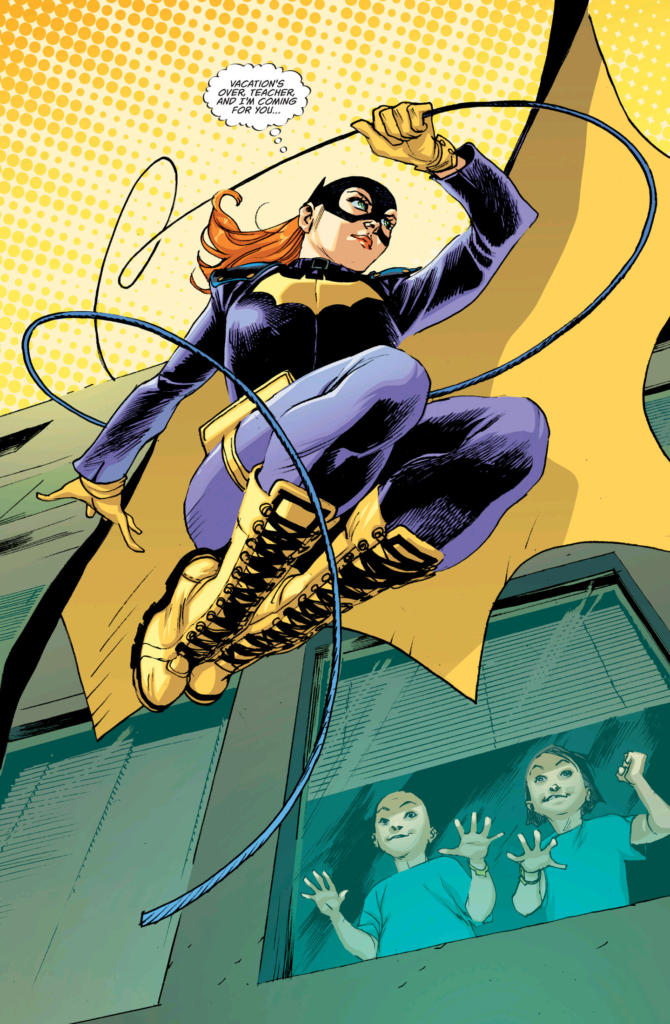 On that note, I will take an aside to say that Rafael Albuquerque continues to be one of my favorite artists. I have an unabashed art crush on him. I love his faces, his expressions and more importantly, I love his take on both Batgirl and Barbara. I mean, just look at her.
In some ways, I'm kind of hoping Batgirl Rebirth never links back to the rest of the Rebirth arc. I've read summaries. I talk with Keri. I know what's coming. Batgirl Rebirth #4 continues on a nice foundation Larson is building, and while it's odd to me that it doesn't seem to tie to Rebirth, I'd be happy if it never does. Don't let the Watchmen rain on this lovely parade.
Author(s): Hope Larson
Artist(s): Rafael Albuquerque
Publisher: DC Comics
Publish Date: 10/26/16
Acquired via Purchase
Our Rating: Yep