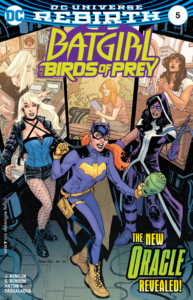 The whole reason why Batgirl reached out to Black Canary to get the band back together was to find this Oracle impostor. Since then, they girls have added Huntress, who was formerly Grayson's boss at Spyral, taken on snake gangsters, and survived a whole bunch of crazy mishaps. That was all in five issues, mind you. Or, really six, since there was Batgirl and the Birds of Prey Rebirth #1 (and yet no #2…). Point being, it's been a wild ride for this girls' club. With this issue, they have finally found this fake Oracle who has been selling secrets to really bad people.
Apologies for the clickbait sentence that is coming, but what happened next did shock me. I'm not going to be able to avoid spoilers, so let's pull up our comics panties and dive into this odd scenario.
So the fake Oracle is a hacker as they suspected, but he (yes, he!) is more of a fanboy than anything else. He did everything, including risking all of their lives more than once, just to get the original Oracle to find him and let him join their team as the new Oracle. He knows who all three of these ladies are, and he's quite the obsessed fan. Stalking? Check. Collects discarded items? Check. Collects every piece of memorabilia he can find?
Check.
I can't help but feel that this whole thing was a waste of time. He endangered all of them, including Barbara's father, as an audition. Huntress wants to kill him, which is really nothing new, but this time, Black Canary isn't entirely eager to hold her back. Batgirl, however, doesn't want to do anything rash. Perhaps it's because she's never met someone so enamored with her entire past before. Perhaps she loves that she's found a kindred hacker spirit now that Tim is "dead." Whatever her reasons, she's allowing the Faux-racle (Black Canary's dub for him) to help them finish this final mission to take down Fenice.
As I watched this all go down, I felt my heart get rather heavy. Was this it? Once this mission is over, Huntress gets what she came for, and Batgirl redeems her Oracle name, are they all going to go their separate ways? I've really enjoyed this comic for the action, its wit, and the interaction between these women. I'll be gravely disappointed if it all ends so quickly.
Fortunately, the last panel drops a bomb that no one could have seen coming and will keep the comic series going for a bit longer. I can still read this comic with the same expression Faux-racle has below.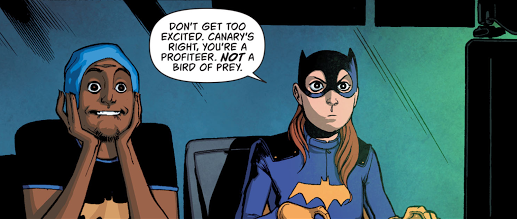 Our Rating: Yep
Authors: Shawna Benson and Julie Benson
Artists: Roge Antonio, Allen Passalaqua, and Yanick Paquette
Publisher: DC Comics
Publish Date: 12/14/2016
Acquired via Purchase