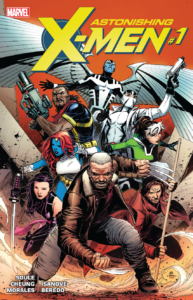 From the cover of Astonishing X-Men #1 alone, this comic promises me all the characters I love from the X-Men franchise. Psylocke. Gambit. Rogue. Old Man Logan (I know, I know). Angel. I can take or leave Bishop and Fantomex, but I'm barely giving them a glance. I'm too excited about the characters I just mentioned. The only question that remains is whether there's enough to bind this team together and keep it fluid for the readers as well as for the plot.
While the story is a bit…odd and it opens up a whole new can of worms and questions, I absolutely loved everything about it. I love how the characters were brought together, I love what they're fighting against, and I love the banter between them. And thankfully, we seem to have the same romance tension going on between my two favorite couples. It's really like Charles Soule wrote this just for me.
Something is picking off psychic mutants one by one, and new psychics are the easiest to succumb, because they're just learning they are psychic. When Psylocke is attacked, one of the strongest psychics left after Xavier and Jean Grey's deaths, she's able to send out a distress signal for help. Rogue, Gambit, Angel, Bishop, and Logan answer the call. Fantomex happened to be with Gambit at the time, and he refuses to leave Gambit's side. Thanks to Rogue and Angel, they're able to stop her before she kills herself and destroys the world around her. One thing I love about Psylocke's art is her telepathic butterfly that frames her face, and I've always thought her ability to physically manifest a psychic knife/katana was pretty darn cool. However, imagine Psylocke creating the King Kong of psychic butterflies that is also a physical manifestation? So much pink destruction.
The one behind these attacks? Why it's our old and suddenly-not-dead friend, the Shadow King. He's up to his old tricks again, wreaking havoc in the astral plane. Psylocke offers to send everyone to the astral plane to fight the Shadow King on his own turf. Angel, the wonderful man that he is for Psylocke, offers to stay behind and protect her, since she's still a bit weak. As for my other couple, Gambit right of the gate reminds Rogue that he's the love of her life. I have no idea what's going on with her and Deadpool, although I assume it's nothing good. If that's off the table, then of course I'm going to root for these two to get back together.
Shadow King's rebirth was a surprise to be sure, but it wasn't as big of a shock as Charles Xavier's presence in the astral plane. I get no one stays dead in this world, but, um, what is this going to turn into? I'm so glad I picked up this series. Lovers of X-Men Gold and old school X-Men should take a look.
Our Rating: YUS
Author: Charles Soule
Artists: Jim Cheung, Mark Morales, Guillermo Ortego, Walden Wong, Richard Isanove, and Rain Beredo
Publisher: Marvel Comics
Publish Date: 07/19/2017
Acquired via Publisher