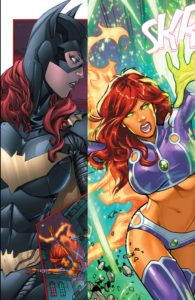 Hooray it's our very first episode of Yelling About Comics podcast! Jennifer and I are so excited to begin this podcast adventure talking about one of our favorite hobbies: comics. Our first topic is something we've talked about extensively like the hopeless romantics we are–Batgirl and Starfire. Both girls have won the heart of Batman's first Robin, Dick Grayson, at various moments, and both nearly walked down the aisle with him. Why do we prefer one girl over the other? Who do we root for? And most importantly, why can't Dick just pick a girl and be happy?
Oh right, comics.
We also discuss a little bit of what we've been reading this past month, which includes Paper Girls, Lumberjanes, Lady Killer, Hellblazer, Uncanny Avengers, Nightwing, Green Arrow, Mighty Thor, and so much more.
We plan to podcast one a month to cover comics we've read over the past month. If you have any comic suggestions, topic suggestions, or questions for us, please leave them in the comments below! Thank you for joining us on this adventure!
Coming soon: links to iTunes and Google Play!
Podcast: Play in new window | Download