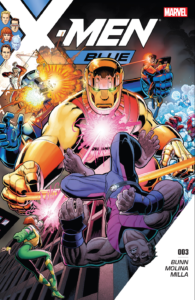 X-Men Blue has been rather entertaining thus far, and it has been a little endearing with all of the callbacks to older enemies of these original X-Men. Juggernaut. Black Tom. Magneto…not being an enemy, maybe? It's all well and good as they get their feet wet as a new team, but we need some meat soon. Bringing back the Sentinels, however, is merely another meager reference to the original team's past (even though technically they haven't met them yet) and not the meat the series needs.
Was it interesting to see the Sentinels again? Yes. Was the story surrounding them enjoyable? Yes. But was there any meaning to it? Doesn't feel like it.
Individual issues can easily stand alone without connecting to surrounding issues, but these only work when a series is established. These characters are barely established, except by name. Their purpose most certainly is not. We need substance before we can get to filler.
A new mutant has discovered her powers and nearly destroyed everything around her, which is probably the most overdone way for a mutant's rite of passage. Even more overdone is the appearance of the Sentinels at such a time.
At least this isn't a stereotypical appearance. These Sentinels are actually protecting the girl from harming other humans, and they want to help her. When these X-Men appear, they offer to help them too, and show them that they mean no harm. Everyone is a bit surprised. We haven't seen a nice Sentinel since Cerebra.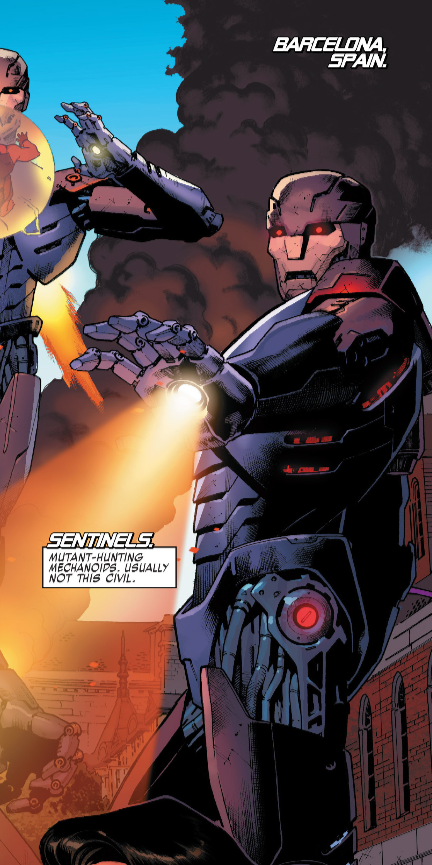 These are the real Sentinels, make no mistake. They came from Master Mold, who is still alive and well as a matter of fact. He invites the mutants in, and tells them that his goal is to help mutants thrive since they're nearly on the brink of extinction after the Terrigen mists. They're all having trouble believing it, and for good reason. Hank tells Jean to ask Master Mold why they're helping mutants, and their reason is the same as why deer hunting is only legal a certain time of year.
So much for making new friends. So much for ripping Master Mold a new one as well, because he flees with his Sentinels when the X-Men attack.
This could be a setup for future weird interactions with the Sentinels, but it feels hollow overall, almost pointless. There's no delving into the horrible things Hank was insinuating about magic. Nothing about Bobby's dying love life. Nothing about Magneto and what he is possibly planning. It reeks of filler, and no series should have filler the third issue in.
In Cullen Bunn I trust, but perhaps this story just isn't for me.
Our Rating: meh
Author: Cullen Bunn
Artists: Jorge Molina and Matt Milla
Publisher: Marvel Comics
Publish Date: 05/10/2017
Acquired via Publisher