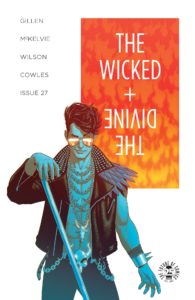 After a few months of wading through issues that are increasingly losing my interest, The Wicked and The Divine #27 is my final trip down this mythological rabbit hole. I have determined I am simply not a Millennial (well, that I already knew), and I'm not "cool" enough to enjoy the series. It's not a bad series — far from it — it's just not my cup of tea. 
This issue is even presented particularly well. In this week's podcast I compared it to the "Tonight" musical number from West Side Story, in which several characters' arcs weave through one another in a very lyrical, dramatic fashion. It's glamorous, it's melodious, and it still can't keep my attention. Mostly because — and I know this will shock any frequent readers of the site — goddamn Persephone. I get it, already, she's a force of chaos and will probably bring about the doom of every god and goddess of the Pantheon. The second those skulls appear in her eyes, they've lost me. It's so formulaic now.
Meanwhile, I continue to be shocked at how non-threatening this Darkness appears to be. I'm starting to suspect that the writer wasn't entirely sure what he wanted the Darkness to be. It's hyped as this all-destructive force, but now that it has appeared, it seems to be more of a nuisance than anything; an aggressive dog that can be slapped away with newspaper. Maybe that's the point: maybe Ananke was truly full of shit and this isn't the end of the world. Or maybe Gillen is just buying time while he writes and hopes the Darkness naturally weaves into the story. Ain't nobody got time for that.
My biggest complaint, though, is that the last several issues seem to have forgotten that the previous issues happened. In #26, for instance, Urðr had a moment of realizing maybe she, too, needs to relax. Imagine my surprise when her arc, this issue, is the realization that maybe she, too, needs to relax. We've been over this, people. But, then, we've also been over "Persephone is in this for the anarchy," soooooo…
I'm a little sad to part ways with The Wicked and The Divine. There were arcs and issues within that truly brilliant and I love, love, love Kieron Gillen's style. He's always pushing boundaries with the medium, and the arc leading up to Anake's death will remain one of my favorites. But nothing since then has resonated with me, or grabbed me the way the initial issues did. So I think it's time we see other people, and part as friends.
Author(s): Kieron Gillen
Artist(s): Jamie McKelvie
Publisher: Image Comics
Publish Date: 03/08/17
Acquired via Purchase
Our Rating: Meh