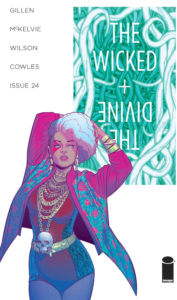 Kieron Gillen's The Wicked and The Divine series has always been painted in shades of grey. Nothing is ever as it seems, or is as expected, and no one is easily classified or defined. The greyest grey area has consistently been the question of where the god begins and ends, and where the human host begins and ends. After finished The Wicked and The Divine #24, I wonder, now more than ever before, how this extends to Persephone/Laura, as she sinks deeper and deeper into her Destroyer persona.
Within the malicious, topsy-turvy story, everyone has suffered and lost at the hands of Ananke's scheming, though none more than Laura. I feel it's important to emphasize Laura there, and not Persephone. True, Persephone was nearly murdered after stepping on Earth not ten minutes, but it was Laura whose family was taken from her, and whose gilded dream was utterly destroyed in a literal snap.
And here begins the question of where Persephone begins and Laura ends. The character is in a most dangerous position, having fully embraced a sense of nihilism toward, well, everything. She killed Ananke, but that doesn't seem to be bringing her any sense of peace or closure. Not only is she on a war path against anything and everything, she is proving more and more than she may be the most dangerous one of the bunch. Despite an "interesting" pep talk from Minerva, I don't get the impression Persephone will end her use and abuse of her fellow gods.
Last issue, it sounded as though Woden was making a new machine, something which we were not treated to this issue. Instead, Urðr spends the lion's share of the issue investigating Woden's death machine. Woden's long-standing claim that he didn't know the machine's purpose has always been dubious and I'm not sure we, as readers, needed to know, for certain, that this was a bullshit defense. The main purpose of this reveal was to show just how unhinged Persephone has become.
Urðr has never been comfortable with Persephone's claim of self defense in Ananke's murder. Woden's reminder, and Persephone's subsequent threat has clearly cast further uncertainty on Urðr. Much like we, the reader, Urðr has to now be questioning how much of this is Persephone's personality, and how much is Laura losing herself in the wake of Ananke's treachery.
It's all well and good to fight against a murderess if you believe she (Ananke) was well and truly evil. It's another thing entirely to wantonly destroy everything in your path because you are hopeless lost to your own grief and bitterness. I have, since the issue in which Ananke was murdered, wondered if Persephone really was the Destroyer she has branded herself as. That is, has the world of The Wicked and The Divine swapped the witch for the devil?
Author(s): Kieron Gillen
Artist(s): Jamie McKelvie
Publisher: Image Comics
Publish Date: 12/07/16
Acquired via Purchase
Our Rating: Yep