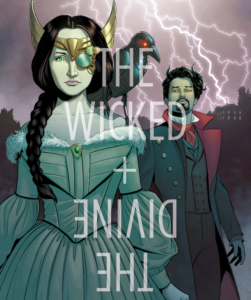 While the main continuity (modern times) of The Wicked and the Divine is on temporary hiatus, Kieron Gillen has gifted us a one-shot issue: The Wicked and the Divine: 1831. The events take place two cycles ago, and feature a final night on Earth for Woden, Morrigan, Lucifer and Inanna. As Lucifer suggests the four take turn telling ghost stories, the tales get suitably darker.
In this cycle, Woden is a woman who was married to a man who has embodied Morrigan, while Inanna is a woman (the step-sister of Woden), who has recently taken the male Lucifer as a lover. It's tempting to forget, that while the gods themselves have distinct personalities, they are also trapped alongside the personality of their human host. That is to say, The Wicked and the Divine has treated us to the gods as having a certain type of personalty, and in The Wicked and the Divine: 1831, we see different flavors of those gods. Yes, that's as amazing as it sounds.
Namely, Inanna. In the modern cycle, Inanna seemed to embody more of the "peaceful" side of the Sumerian goddess; love, and peace, most notably. As with most "mother goddess" archetypes, Inanna has a darker side, but Ananke removed Inanna from play before we got to see that. This Inanna veers further into the warfare and lust side.
The tale she tells is that of her jealousy and envy of her bright and beautiful sister, before either took on their godly possessors. The stories seem petty enough, at first, with Woden coming back with a tale of all three of her children dying after birth, convinced that her legacy was that of ash. It's a sibling rivalry made darker by their heavenly occupants.
As I have mentioned in previous reviews and discussions of this series, what amazes me most is how petty the gods can be, on occasion. Despite having endless power and knowledge at their disposal, they act like spoiled children, which holds delightfully in sway with most mythologies. Coupled with petulant, insolent human hosts, and, well, the results can be a mash of terrible personalities.
Woden's and Inanna's story takes a horrible dark turn, late in the tale, though not as dark as Ananke's antics, which are given jaw-droppingly vague closure. Early on she kills a dying Hades, and offers his severed hand to Lucifer, who predictably attempts necromancy in effort to avoid their looming death.
Inanna quickly and correctly surmises that Ananke would only offer the hand to Lucifer if this was part of her plan, all along. (Because, if you can believe it, Ananke is somehow even more callous in this cycle than she is in the modern cycle.) The results of this magic escapade walk off, inhabiting Woden's body, but it's unclear what becomes of the creature. Clearly it ejected Woden from the host, as we see Woden in a later cycle, but it's unclear if the creature became the sole, immortal driver of Woden's body, and whether or not Ananke had to deal with it.
Which is probably my favorite part of this one-shot. So much is left to the reader's inference because Gillen inherently trusts his audience to connect the dots when and where it's necessary. I have no doubt the creature of 1831 will rear its head, or at least the tale of the creature, in good time. The events of this series seem a little too dark and foreboding to not have a part in the larger narrative, at some point.
Title: The Wicked + The Divine: 1831
Author: Kieron Gillen
Artist: Stephanie Hans
Publisher: Image Comics
Publish date: 09/21/2016
Acquired via: Purchase
Our rating: Yep