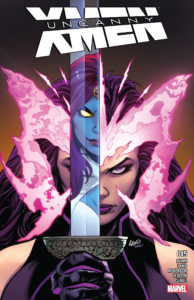 Psylocke has rage quit Magneto's X-Men, and with all the secrets he has as well as fingers in various pies, I don't blame her. Considering though, that this issue of Uncanny X-Men focuses rather solely on her, I doubt she's gone for good. She did tell Eric last month that she would keep an eye on him, and she still wished to follow his vision. She just can't do so under his leadership. Psylocke could handle a few secrets, but the inclusion of the Hellfire Club put her well over the edge. Monet becoming the White Queen most likely didn't help matters either. I also have a hunch that the only reason Sabretooth is sticking around is to protect Monet, and perhaps keep the rest of the Hellfire Club in line. He isn't too pleased with the alliance either, but he wants to help mutantkind as much as Eric, so here he stays.
Psylocke, however, has her own mission to go on, taking down sects of evil mutants one bunch at a time. I have to say, psychic knifing Sauron and thus freeing his slaves was one of the most satisfying moments I've read in X-Men lore.
Before I continue, take a moment and look at the beautiful cover. The artwork in Uncanny X-Men has always been rather amazing, but this month's is absolutely superb. I absolutely love how Psylocke's psychic butterfly appears now, even though it reminds me a bit of She-Ra's headdress. Even her psychic knife and now psychic katana have a far more defined and yet beautiful form. They appear to truly be psychic energy, something that flows instead of an energy bolt that extends directly from her fist.
She uses her psychic knife quite a bit in this issue since she's tackling mutant threats one solo. She's not directly going after humans who have diabolical plans for mutants, but rather mutants who are making things worse for other mutants. Hence why she knifed Sauron. While on her little pilgrimage, she's stalked by Mystique. Psylocke has no idea why Mystique is following her, if it's because that's how Magneto wants to track her or if she's there to kill her.
They naturally scuffle, but during the fight, she psychically notices that Mystique is vulnerable to a psychic probe. Mystique is typically invulnerable to any psychic attacks because of her abilities to shift (constantly change her brain tissue). Psylocke takes advantage of this moment, and does what mutants have been trying to do for her since the 9os–cures her of her mental instability. Mystique is still the selfish, evil woman she always was, but now she's not clinically unstable and psychotic. As Mystique walks away, though, Psylocke can't help but wonder if Magneto sent Mystique to her so she would do just that.
Psylocke is definitely paranoid in this issue about what is going on around her, if Magneto is constantly pulling strings with everything and everyone. With what has been happening, that's not too illogical of a conclusion to make. Magneto definitely seems to have everything going according to his plan, as though he's the true puppeteer for everyone on Earth.
And with that, I'll leave you with some more beautiful Psylocke art from this issue.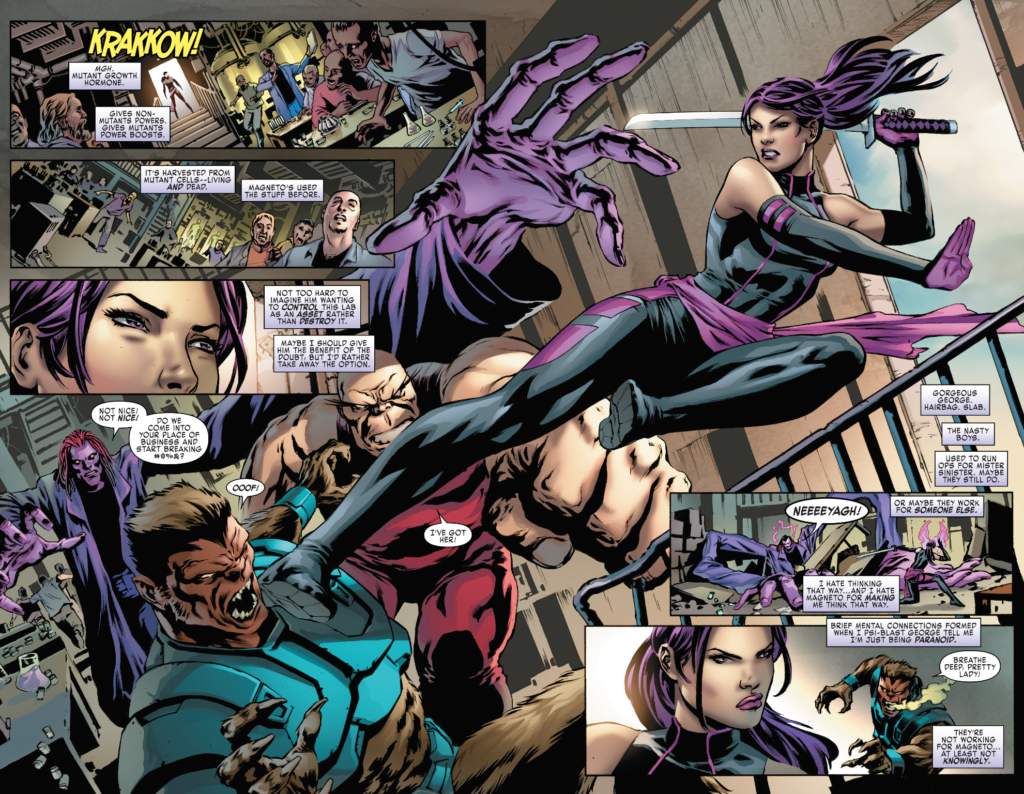 Our Rating: YUS
Author: Cullen Bunn
Artist: Greg Land
Publisher: Marvel
Publish Date: 11/9/2016
Acquired via Purchase