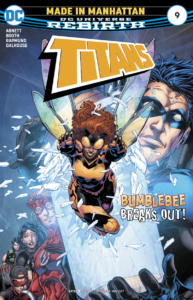 Karen Duncan, whom most DC fans know as Bumblebee from comics past, did not have any of her powers at the start of DC Universe Rebirth. She married Mal Duncan when he was a Titan, but he left the Titans after a horrible altercation with Mammoth. Due to that trauma with Mammoth, Mal opted to give up his powers with the help of treatments from Meta Solutions. When Karen suddenly developed her powers, he took her to Metal Solutions so she could decide what she wanted with her powers. They could help her give them up or help her control them.
This is all fine on the surface. It's a new origin story for Karen, and that's all well and good. However, how does everyone already know to call her Bumblebee when she dons the coincidentally black-and-yellow suit from Meta Solutions? She hadn't really discussed her powers before she put on the suit, so the continuity of this origin story feels off already. 
True, she may have displayed some of it to Mal before, but somehow nearly everyone knows she's called Bumblebee, including the Fearsome Five she just met.
Oh, right, they're the ones behind Meta Solutions. Dr. Simon is Psimon. The giant in the reception room that sent Mal into a PTSD spiral? That was Mammoth. The whole gang is here, and they insist they've changed for good. Mammoth said he gave up his powers as a way to cope with the horrible things he had done. The rest spin similar stories about either giving up their powers or using them to help other metahumans. Mal doesn't believe it, Karen feels she was duped and really wants a piece of Mammoth, and the Titans just want to walk away peacefully to regroup.
Should they believe the Fearsome Five? Should they investigate what they're really up to? And what about Mal and Karen? What will they do now?
I most likely don't need to paint the rest of the picture for you. Of course they can't be trusted, and of course they have something super sinister up their sleeves. The Titans have always gone up against the Fearsome Five; why stop now? Flash is back to fighting the Rogues, so the Titans may as well go back to their old haunts.
That said, since nothing is at it seems, will Mal and Karen join the Titans down the road? That could be most fun.
Our Rating: Yep
Author: Dan Abnett
Artists: Brett Booth, Norm Rapmund, and Andrew Dalhouse
Publisher: DC Comics
Publish Date: 03/08/2017
Acquired via Purchase