Not much happened in this issue of Titans, and at the same time, plenty happened. Action-wise, the comic was fairly lacking for one of the superhero genre, but it was the subtleties that made the biggest strides.
The Titans are still fighting Abra Kadabra, the magician from the future who tossed Wally into the speed force/timestream abyss, and the doppelgangers her created of the Titans' younger selves. But the fight doesn't last long in this issue, and Kadabra bolts with his minions after a few panels. The Titans are then left to their own little dramas of unrequited love or stupid teenage love, however you want to explain it. Last issue, while Arsenal was tied up with doppelganger Donna Troy's lasso of truth, he confessed that he was always in love with her. Now that the fight is over, naturally, the real Donna wants to talk about it. Also naturally, Arsenal mucks it up.
Because, comics.
Wally, however, no matter how creepy it really is, can't let Linda Park go. Never mind she has no idea who he is, no clue of their supposed future, and therefore, this is borderline stalking. Also never mind the fact that his attachment to her only opens a weakness to Kadabra. Kadabra threw him in the timestream to get rid of him, right? Don't you think he will want to exploit that weakness to get at you again? He most likely doesn't care if he hurts her. Just a thought.
Oh wait, he kidnaps her on the last page? WE DID NOT SEE THAT COMING. Wally, you twat. I know you've been out of the superhero game for some time, but seriously, this is villainy 101. She was even at your last fight with him just a few moments prior. Kadabra may be a weird magician, but he's not a complete idiot.
Also, it looks like he's related to a former member of the Watchmen. I guess it's a good thing I've been told to read that graphic novel, because I would have missed this reference entirely.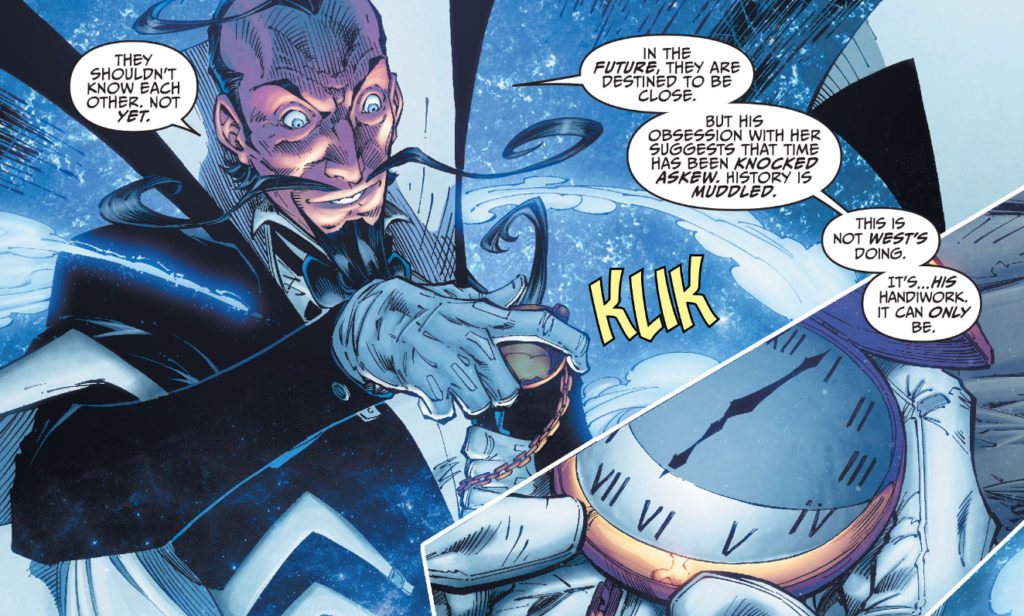 I really wish that Titans ran bi-weekly instead of monthly. Four weeks is a lot in between issues where the subtleties are this meaty. Between the Watchmen references (this was the second one, for the record) and the romantic tension, there's a lot to cover and potentially forget over this time. I suppose this is why many people prefer trades when they go on sale, for the reading comprehension.
Author: Dan Abnett
Artists: Brett Booth, Norm Rapmund, Andrew Dalhouse
Publisher: DC Comics
Acquired via Purchase
Our Rating: Yep