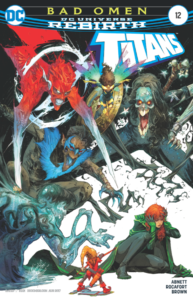 I practically squealed when I opened my new, downloaded copy of Titans #12 from Comixology. I'd recognize that artwork anywhere; my absolute favorite comic book artist supplied the art for this issue, the amazing Kenneth Rocafort. It almost doesn't matter to me if the story is bad, because the art will be incredible.
Fortunately, the story isn't bad. How could it be with Dan Abnett behind the pen? There isn't much physical action in this issue, but in all reality, these 20- and 30-somethings need time to recoup after The Lazarus Contract. Everyone has something on their minds. Karen is missing a piece of hers. Mal is upset that Karen wants to be a superhero. Donna Troy is wrestling with the fact that she's a construct with implanted memories. Everyone is kind of upset with Nightwing for making a deal with Deathstroke all those years ago. It's hard to say if they're mad at him for making the deal in the first place, or if they're mad that he didn't tell them. Then there's Wally. Poor, poor Wally. He's going to have to give up being Flash since, thanks to Damian, he has a pacemaker.
As for what is on Lilith's mind, it's pretty much everything. She lets a lot spill out as she battles Psimon in the realm of the mind to get him to reveal where he's hidden Karen's memories. And thus, the soap opera to top all Titans soap operas tumbles forth. Pop some popcorn and pass it to your couch buddy. 
In the beginning of the Titans run in the DC Universe Rebirth, doppelganger Donna Troy used her lasso of persuasion to wrangle Arsenal into saying he has always loved her (her being the real Donna Troy). Donna tried asking him about it later, but he brushed it off as saying what he needed to in order to distract her. The readers, and everyone else except Donna, can see through that line of bull. After watching Donna angrily destroy a simulation exercise, and after some goading from Lilith, he realizes that now is the time to tell her the truth.
Unfortunately, in true soap opera fashion, he's not going to get that chance. While he's collecting himself, Wally admits to Donna that Linda Park has told him to leave her alone. To be fair, he was getting very stalker with her. Now that it looks like he can't be Flash anymore, he has no idea who he is. What a coincidence, Donna is going through the same thing! This is the perfect time to make out, especially since Arsenal is walking through the door with roses.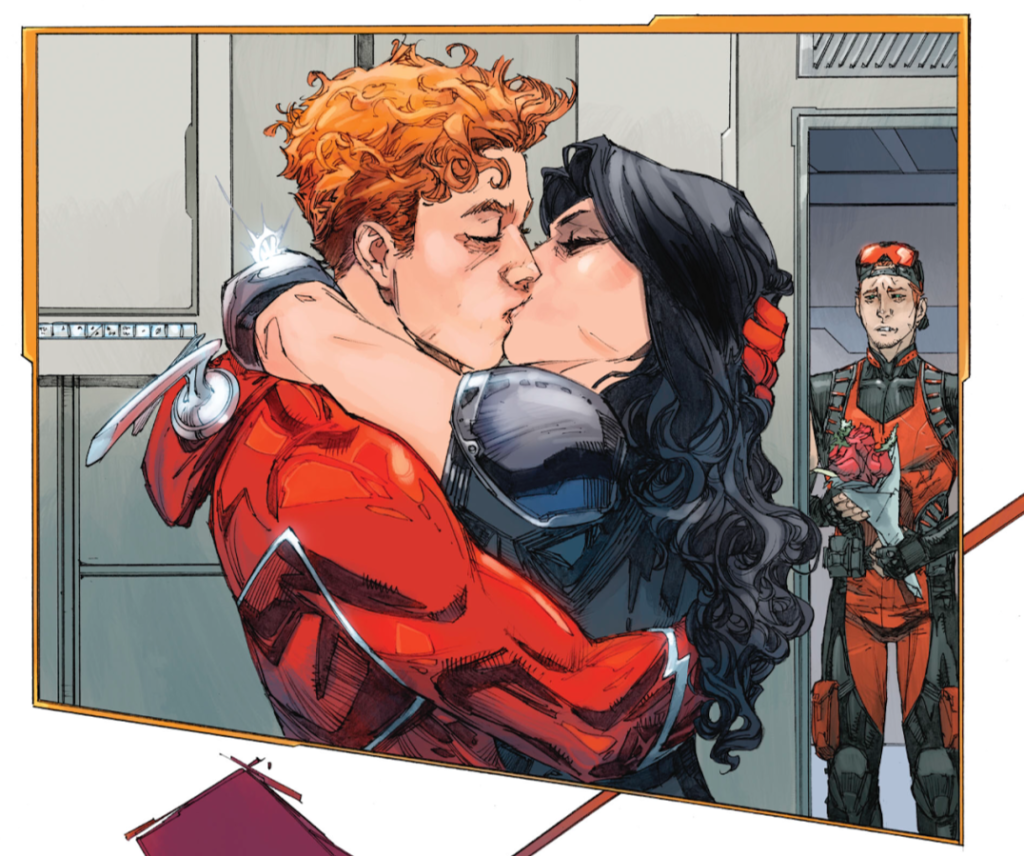 You can see the exact moment Arsenal's heart breaks in that panel.
Garth and Lilith also play a bit of kissy face before she digs into Psimon's mind. While she's scraping what she needs from his brain, he reveals that there is a traitor amongst the Titans, and she's the Bad Omen catalyst for the destruction to come. You see, Omen is more than a code name. She is an omen. Wink wink, nudge nudge.
To wrap it up, we have an angry couple, unrequited love, two random hookups, and problems trusting the leader. Now we also have a traitor in the midst, who is most likely Omen. Does she tell her new boyfriend what's on her mind? Of course not! Why be open and honest in a relationship? You especially don't do that in a comic book relationship.
I'm going to be popping popcorn for days with this arc.
Our Rating: YUS
Author: Dan Abnett
Artists: Kenneth Rocafort and Dan Brown
Publisher: DC Comics
Publish Date: 06/14/2017
Acquired via Purchase