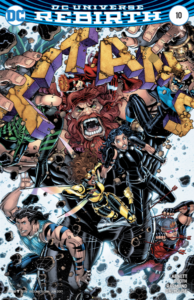 Nightwing and Flash have been captured by the Fearsome Five. Dick may not have any powers to steal, but they're quite content with taking his physical abilities (which for some reason, did not include his witty humor). Not to mention, they're super stoked to snag some speedforce. Psimon thinks he's all powerful and therefore, the rest of the Titans can't sneak up on them. Hasn't Psimon ever heard what happens when one assumes?
That's right; not even Psimon's psychic powers can stop the Titans from a surprise attack. It's just too bad that it's not enough. Before long all of them are crushed under the Five's boots. Just as the curtain is about to fall and you can hear a narrator in the background saying, "Will they be able to escape? Find out next time…", Karen Duncan crashes the party. Sure, she only recently got her powers. Sure, she has no idea how to truly wield them. None of that matters, though. All you have to do is bee-lieve in yourself, and you can bee amazing!
Yep, I'm here all week!
The best part of the whole scenario isn't Karen bursting onto the scene, although that is pretty darn cool. I could not stop laughing at Mal Duncan trying to get to his wife and friends via a cab in New York. Of course, I'm not sure how else he'd get there. He did give up his powers to the Fearsome Five and thus has to rely upon public transportation. I'm also assuming (yes, yes I know) that since he's in New York, he doesn't own his own car. He's bringing his costume and all, trying to help his wife and friends who really don't need help.
Well, his friends need help. His wife most certainly does not.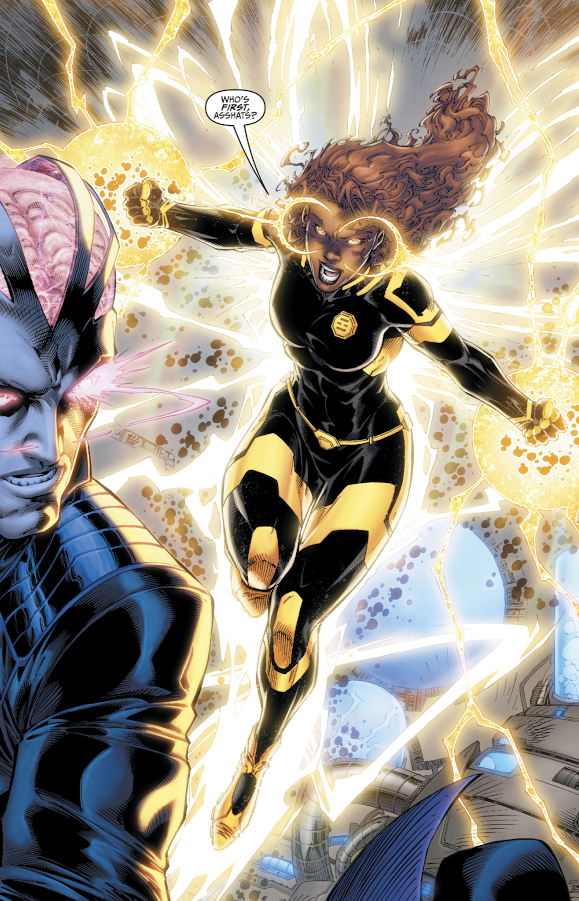 Yes, the newbie meta kicks the butts of the Fearsome Five, the team that thwarted the Titans quite often in the past. However, that isn't the end of the story by a long shot. The Five was harvesting meta powers, but unlike Blackbird, they're selling the powers to the highest bidder. Who might that be? Spoiler alert—it's another classic villain for these Titans.
I'm rather enjoying these old villains making a comeback. It really feels like these are the original Titans, sans Beast Boy and Starfire. Nightwing done fucked up (literally) with Starfire, so she's never returning. I think she enjoys looking after Robin as well. She's certainly the mother hen of that bunch. As for Beast Boy, he's never grown up enough to become a Titan. He'll be a crotchety old man and still hang with the Teen Titans.
The big question I have for the Titans is, will Mal Duncan get his powers back? Surely the Duncans, or at least one of them, will join/rejoin the group. Bumblebee is certainly too badass not to.
Our Rating: YUS
Author: Dan Abnett
Artists: Brett Booth, Norm Rapmund, and Andrew Dalhouse
Publisher: DC Comics
Publish Date: 04/12/2017
Acquired via Purchase