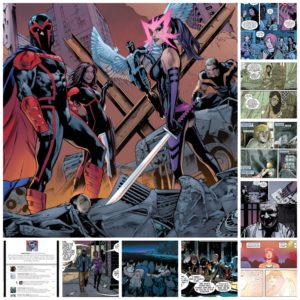 The last several years have been good for comic books, and I'm sure we both uttered this phrase at least once or twice within the last five years, but it feels especially apt this year: This was a damn good year for comics. Between DC and Marvel reinventing and reforging their image, and Image and Dark Horse taking some long shots on new concepts, the list of "must read" series is huge. It took some thought—any by "thought" it might mean "a few glasses of wine"—but Keri and Jen narrowed down our Essential Series of 2016.
Jen's Best Comic Series of 2016 (aka The Hipster List)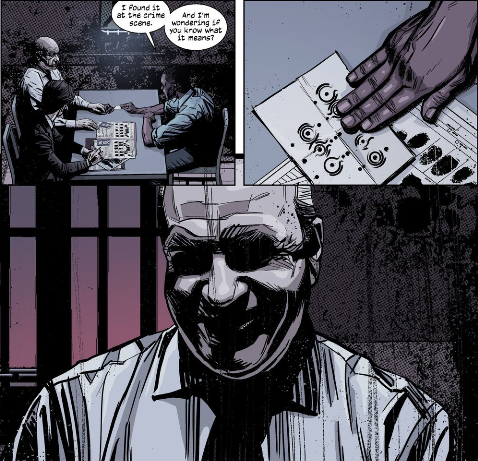 The Black Monday Murders
If I had to point to just one series that completely blew me away this year, it would be Jonathan Hickman's The Black Monday Murders. It's Hickman at his finest: conspiracy, dark magic, the surreal and real worlds intertwining, and a seemingly hopeless fight against an all-powerful, malevolent force. Hickman's supposition is deceptively simple: What if the world's economy — all major nations, united as one — was run by a group of Mammon worshipers? It's dark, it's lofty and it's delightful. The series is in in its initial set-up phase, currently, and it's already come out swinging. It's Hickman and his Hickmaniest, and all that that implies.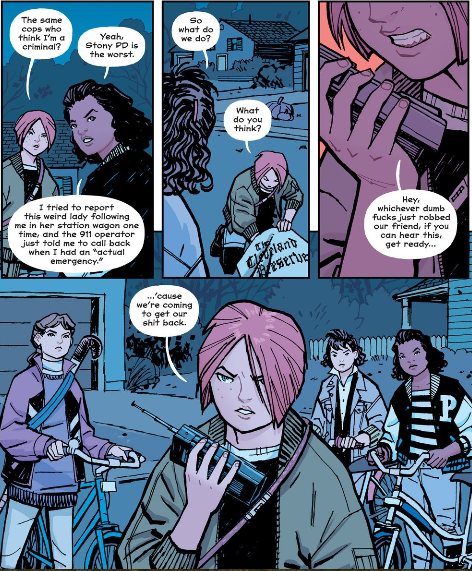 Paper Girls
The aging '80s generation has finally reached its nostalgia salad days, with many entertainment mediums dishing out retro series that pull on our childhood's heartstrings. Brian K. Vaughan's Paper Girls takes one part '80s nostalgia and one part hard sci-fi mystery and combines them with great results. Four tween best friends embark upon a time travel journey beginning in 1985, visiting 2016, and possibly rewriting the entirety of history and future as we know it. It features four protagonists who rise above the childhood stereotypes—in many ways they remind me of the crew of The Monster Squad, presenting a "grittier," realer version of the Stand By Me boys—and a time-travel mechanic that actually works within the narrative. But chances are, I already had you at Brian K. Vaughan.
Harrow County
It occurs to me that I read a lot of magical series. Cullen Bunn's Harrow County remains one of my favorite series, and one of the best comic series of 2016. It's Southern Gothic in a way that never feels too beholden to the trappings of the genre. It has a strong female protagonist who, throughout the series, is just struggling to find her place in her world. She's flanked by strong, complex characters both friendly and foe, and steeped within a world that feels well and truly dangerous. The best part of the series is the O Henry-style vignettes that help elevate Harrow County from a setting to its own character. It's like The Sixth Gun, but without all of the "end of the world" stuff. Bunn has created in Harrow County a rich mythology that feels at turn other-worldly, and entirely real.
The Sheriff of Babylon
This is a weird comic to include in the list, admittedly, mostly because I don't talk about it nearly as often as I should. Why haven't I talked about it that much? Well… it's a dark, complex read. Not dark in the "Mammon cultists" kind of way, but real-world dark. Real-life CIA operative Tom King has created a crime thriller in what is, on occasion, an all too real-feeling story set in Baghdad. It's political, but never in a too-preachy manner, which makes it a little more depressing. The action is tight, the dialog flows naturally, and the characters are as complicated as the state of Iraq. Fan of Narcos will find it especially enjoyable because of the uncomfortable questions it raises. The series is a mere 12 issues, and has come to an end, making it the perfect binge read over the holidays.
The Wicked + The Divine
This was a series that took me a bit to warm up to, but once it grabbed me, it has consumed me utterly. It's glam, defined. It's lofty, with tales of gods and goddesses returned to life, firmly rooted in mythological traditions, and yet entirely modern. It's mysterious, funny, and heartbreaking, often all in the span of one page. Like most of my favorite series, it starts with a deceptively simple plot—a pantheon of gods returns to Earth for two years in which time they will be loved and hated before they, and their human host, die—and grows into something so much more complicated and richer. The characters are so much more than stereotypes and labels; just when you think you have a grasp on them, they show another side you weren't expecting. This is Gillen's finest work, and one of the "coolest" series on the market.
Keri's Best Comic Series of 2016 (aka The Mainstream List)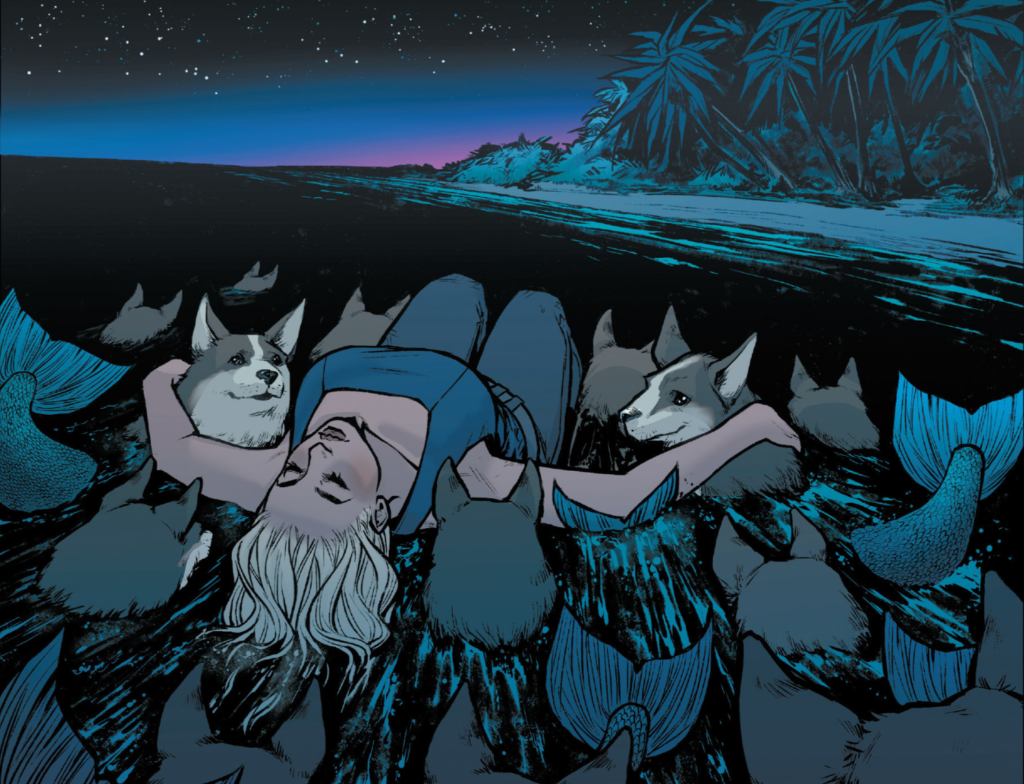 Mockingbird
I picked up Mockingbird simply because I heard it was canceled, and an angry mob of twatwaffles ran the author off of Twitter. As I looked into the series—I admit, I had not a single clue about who the Mockingbird is/was—I saw that the Mockingbird is Bobbi Morse, one of my favorite characters from Marvel's Agents of SHIELD. They wrote her and Hunter out of the show, and it just happened to go downhill afterwards. I'm not sure that's a coincidence. Regardless, I bought all 12 issues after reading about Chelsea Cain's horrible treatment and figured if I hated them, I at the very least supported a female author and a strong female superhero. I absolutely love everything about this series. The only reason why I can tell people hated it is because they don't have a sense of humor. Near the end, it goes into the deep end of ridiculous, which I think is Cain's answer for canceling the series. I loved it all the same. Fantastic and witty lines, a strong female character, and rather deep stories about Ms. Bobbi. Besides, how can you hate a series that has mer-corgis (above) and makes Hunter wear a shirt that says, "I'm just nuts about Corgi butts"?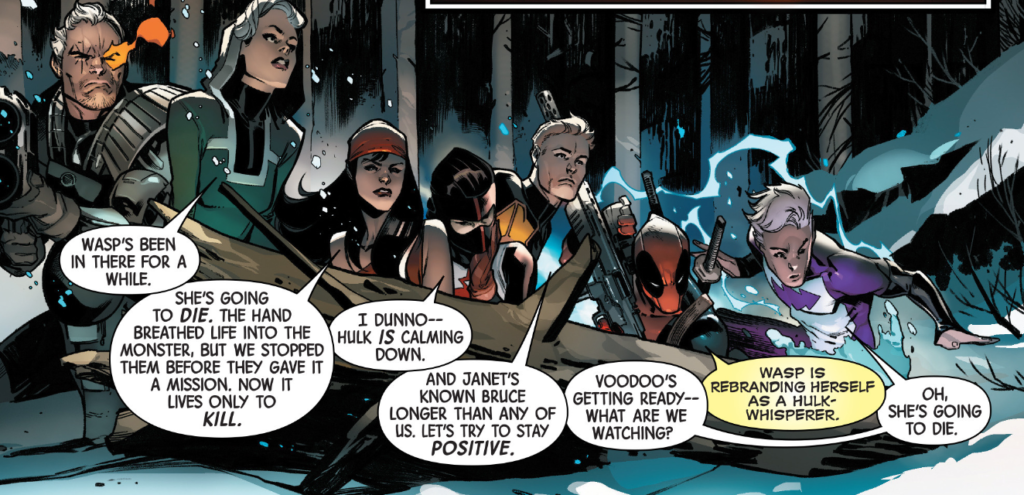 Uncanny Avengers
The official merging between the Avengers and X-Men isn't new, but with the Terrigen mists poisoning the Earth, old Steve Rogers decided that his Avengers team should include inHumans too. It's the all-inclusive Unity squad of the Avengers, and boy is this team ROUGH. I wasn't sure how I would like it, but after Deadpool ran off Spider-Man, I decided to stick around a bit longer. I am so pleased I did. Finally, we have a superhero comic that tackles deep stories, includes crazy action, and has a sense of humor. I was initially worried that Deadpool would be the only comic relief; granted, he's hilarious, but singling him out as the only funny one would get old quick. Fortunately, the entire team is hysterical, even when fighting a zombie Hulk or arguing with Steve Rogers.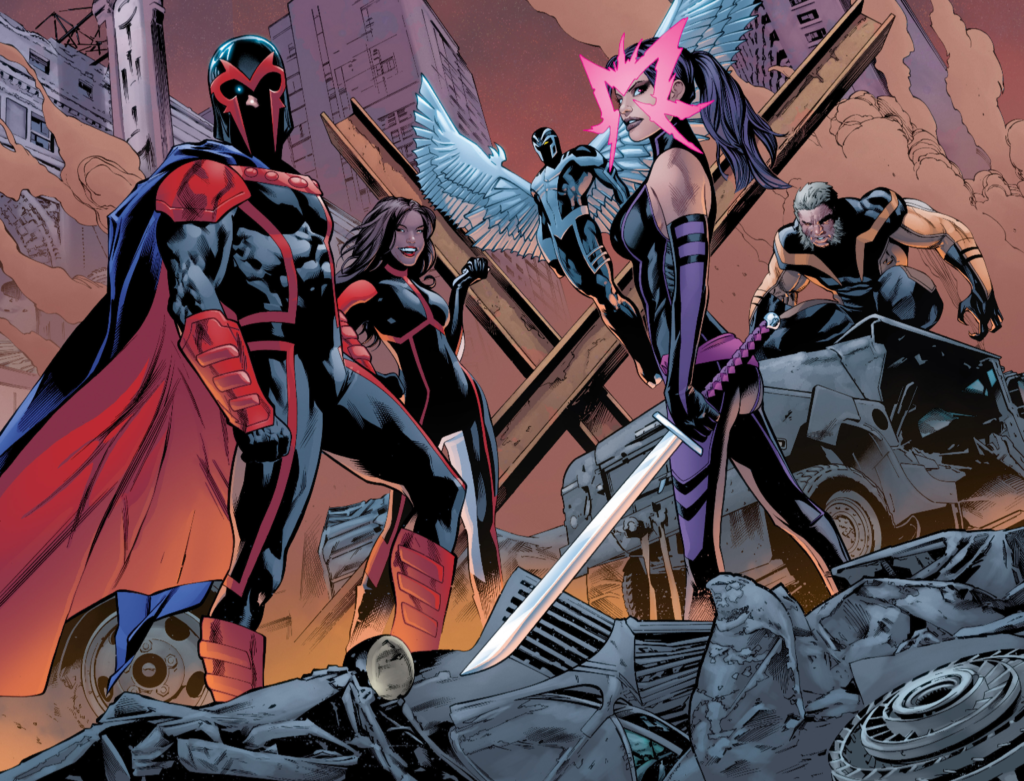 Uncanny X-Men
I haven't liked the X-Men since the 90s, but something tugged at me to check out Uncanny X-Men. Now that Professor X is dead (thanks, CYCLOPS), the mutants have kind of been in a disarray. Somehow, the X-Men are still going somewhat strong, but the leader is one I never expected: Charles Xavier's oldest nemesis and oldest friend, Magneto. Magneto has banded together a reformed Sabretooth (No, really, he's stopped murdering now!), Psylocke, Archangel (sort of?), and Monet. It's a crazy circle of no one trusting one another, and the only trustworthy character is Sabretooth. Who could have seen that coming? I admit I came for Psylocke and Archangel, because I loved them together in the 90s. I've stayed for Sabretooth. I can feel 90s me wanting to bitch-slap present-day me.

Captain America: Sam Wilson
I always liked Falcon. I liked him so much, I wasn't pleased when I heard they made him the new Captain America. But like most people on the world wide web, I cast doubt without doing proper research and checking it out for myself. Falling in love with the Marvel Cinematic Universe Falcon got me to pull the trigger and see what I have truly been missing. When the series started in 2015, Steve Rogers lost his youth and passed on his shield to Falcon. This year, Steve has regained his youth, but he pretends he doesn't want the shield back. Instead, he wants his old friend absolutely humiliated to the point that Sam begs Steve to take it back. It's been an amazing tale of being the hero no one literally wants and still keeping your chin held high. Misty Knight also loves to drop puns, and that's really what keeps me going (I kid, I kid!).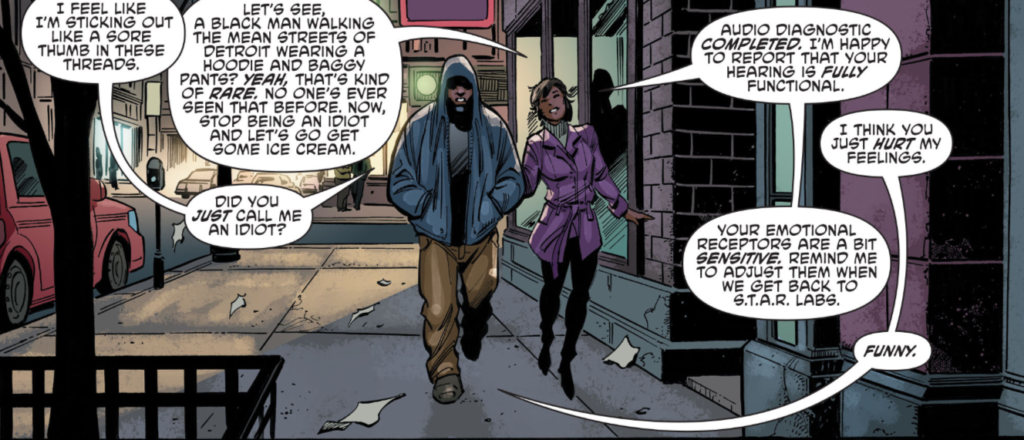 Cyborg
If you've listened to our podcast, then you've heard us talk about an unwritten agreement three of us had with the DC Universe Rebirth comics. Jen agreed to read Harley Quinn, our cohort Larry agreed to check out Suicide Squad, and I agreed to read a few issues of Cyborg. Jen joked that I had the good comic. She must have been tapping into her inner Nostradamus, because she was right. Not only do I have the best of the three comics, Cyborg may be one of the best of the DC Universe Rebirth, of which I've read quite a few. (You've noticed she hasn't even reviewed any of her Harley Quinn issues, right? It's so bad, she couldn't write about it.) Cyborg is one of those comics that uses the insane (cybernetic aliens) to explore Cyborg's fear of not having a soul. Cyborg is tasked with so much in the Justice League that he forgets how to simply be—be himself, be in love, be a son, be a friend, or be a music lover. Underneath the crazy comic plots lies questions we all ask of ourselves, and we aren't half machine. This is exactly why comics are so beloved, and Cyborg embodies it (pun intended) beautifully.