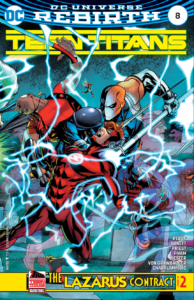 By now, both Titans teams have noticed that their Wallies are missing. Damian installed trackers on his team without their knowledge, and he still can't locate his Wally. He's ignoring his team's outbursts against the violation of privacy to determine how Wally's tracker could be missing. He knows the Titans are missing their Wally as well, and he has an idea who is behind it. But first, it's time to watch a tracker Batman put on the original Robin costume and jump to conclusions as to what it means. I suppose it's that time again to go accuse Nightwing of something else he didn't do, but this time bring his whole team to point fingers.
You know, Damian, sometimes a simple phone call would suffice.
Nightwing has a few problems of his own, problems such as 1) his Wally is missing too and 2) Lilith knows he's lying about knowing what a deal with Lazarus means. Isn't he lucky that Damian drops by to air Nightwing's dirty laundry in front of all of his friends? The kid has all the subtlety of an atomic bomb.
The overall plot is relatively simple. Deathstroke couldn't get what he wanted from OG Wally, so he's moved on to Kid Flash. He's have an extremely difficult time understanding that there's another Wally West, and he's even more upset that Wally never told him his name when he came to him about not knowing the Flash's identity. If Kid Flash thought about it, he would realize that it would have been way too weird for OG Wally to tell him all that, but he's too busy feeling sorry for himself to think rationally.
Thankfully, Slade is there with some good, loving advice.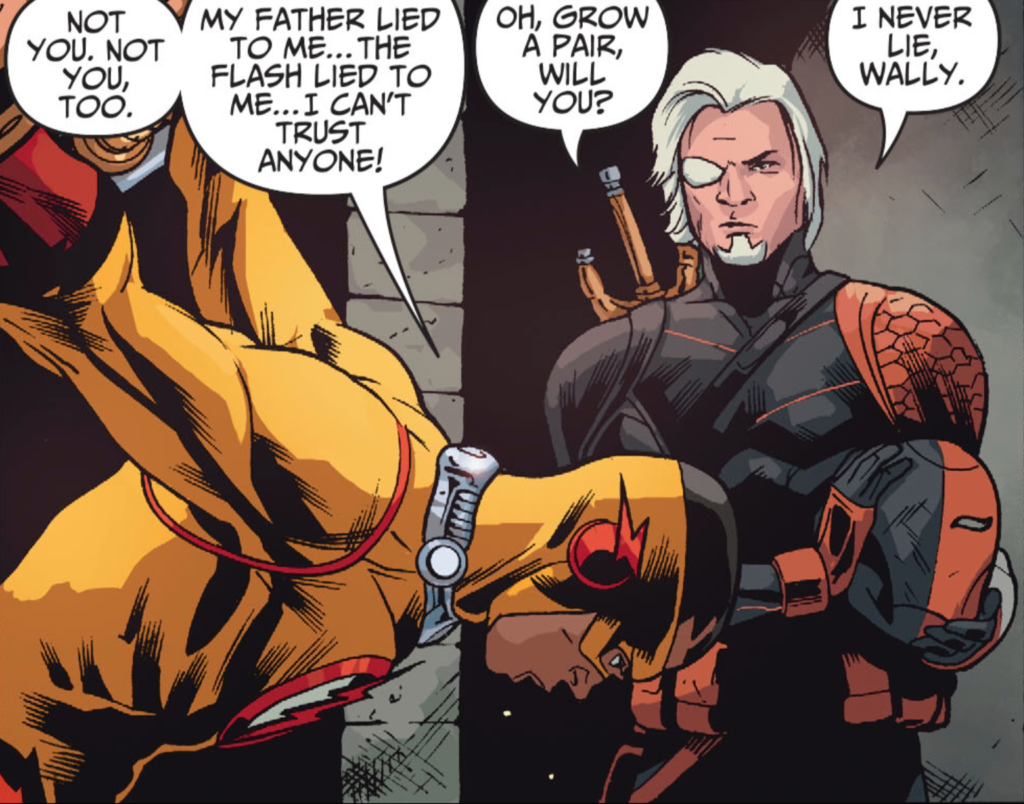 Slade would make the best advice columnist ever. I can see it now…Dear Deathstroke, I am desperate…
Since Kid Flash has not had all of the time-running experiences Flash and the Flash have had, he's far too easy to dupe into helping Deathstroke bring Grant back to life. Kid Flash is also so eager to find someone to cling to, it didn't take much for Slade's sob story to worm into his heart. It all essentially means that the next issue of Deathstroke is going to be absolutely insane, and it's most likely going to be up to only the Flash Family to stop him.
Simply put: the Speed Force is the worst.
I also hope that next issue explains two other mysteries:
What in the world happened after Deathstroke #18? Like who killed Etienne?
What exactly was the Lazarus Contract Nightwing made with Deathstroke back when he was Robin?
I doubt either of these will be explained in the next issue, however, because The Lazarus Contract is supposed to go through each series at least one more time. As long as they continue to deliver hilarious lines like these, I'll happily survive.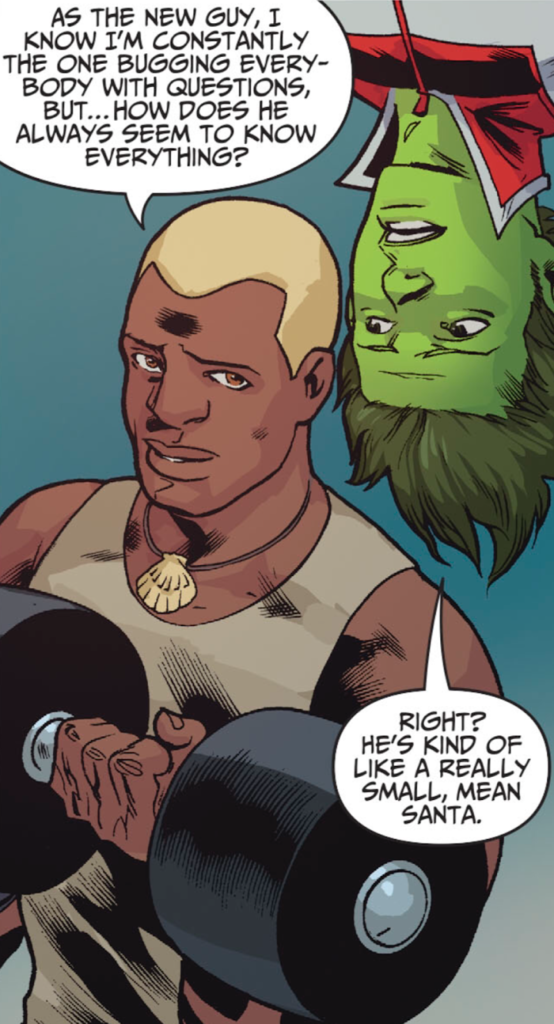 I will never think of Damian the same way again.
Our Rating: Yep
Authors: Benjamin Percy, Dan Abnett, and Christopher Priest
Artists: Khoi Pham, Phil Hester, Wade von Grawbadger, and Jim Charalampidis
Publisher: DC Comics
Publish Date: 05/20/2017