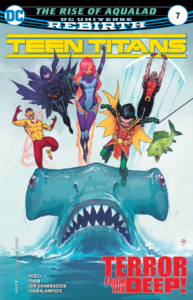 There are man-sharks underwater who have kidnapped a reporter, and the Teen Titans really don't have a solid idea how they're going to reach these Alcatraz shark people, because they're underwater. Guess that's a convenient time for Jackson Hyde to show up? He can swim fast, breathe underwater, and control the water. If there was ever a time to recruit someone who could maneuver underwater, now is most certainly the time.
But with Robin in charge, would it really be that easy? Of course not. Damian always knows best, right? Not to mention, his first instinct is to push people away and piss them off. It's a damn good thing he has friends who understand his callous ways and know how to soften Robin's blows.
Because that's how Damian reacts to Jackson's intrusion, with love and understanding. That's a lie. Damian tells him to get out, he has no time to babysit. Funny coming from a guy far younger, no?
Most of the comic is an audition for Jackson to join the team, as if we didn't know that wouldn't happen. You can't title an arc "The Rise of Aqualad" and NOT bring water boy in. On a whole, it's all rather ho-hum, because it all goes as expected.
That is, until the very last panel. I'm not sure anyone saw the return of a certain villain coming, especially not to the Teen Titans of all series. Although, based upon what we know from Young Justice, it makes complete sense that he has returned.
Am I being cryptic enough for you? The next issue should heartily make up for the doldrums of #7.
Our Rating: meh
Author: Benjamin Percy
Artists: Khoi Pham, Wade von Grawbadger, and Jim Charalampidis
Publisher: DC Comics
Publish Date: 04/26/2017
Acquired via Purchase