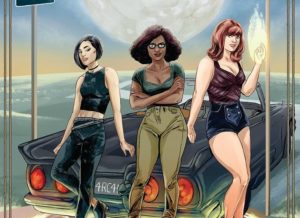 There are a few tropes that, no matter how they are handled, I am instantly enamored with: "practical" magic (i.e. not the magical magic of the Harry Potter universe), road trips and helping people. DC's Hellblazer has long been a favorite series, and I admit that I watched CW's Supernatural way longer than I should have. This is a long way of saying Dark Horse's new series, Spell on Wheels, has my name all over it. It's Practical Magic meets Charmed meets Supernatural meets The Craft, and if that piques your interest, well, welcome aboard.
Spell on Wheels #1 is very much a set-up issue, and all that that implies. The story is mostly concerned with introducing us to our heroines — three witches who live together and work together — and providing a catalyst for their adventures — someone breaks in and steals their stuff. Because we're quite familiar with this style of story, it's clear that there adventures on the road will lead them down many unexpected paths as they make their way to reclaim their magical items.
I mention this issue's tropey nature because the set-up spends a lot of time running us through an established checklist of sorts. Professions established? Check. Unique abilities established? Check. Personalities coming to the fore? Check. Call to action established? Check. Established background characters? Check. Villain hinted at? Check. Bad portents hinted at? Check. It's all here, in mechanical precision. In fact, in many ways, Spell on Wheels #1 feels more akin to an issue #0, as opposed to an actual entry in the series.
Having said that, the issue does serve its purpose, which is baiting the hook. As mentioned, if you have any sort of affinity for the buddy-witch story, and the buddy-adventure story, this is all the lure you need. The series even winks and nods at the Winchester brothers' iconic car, by providing our witches with their own badass vintage vehicle that appears almost by magic. Which is not the least big ironic.
The biggest question I have, after this issue, is whether or not Spell on Wheels will be able to rise above its core concept — take a bunch of awesome stories/concepts and throw them in a blender — and create something that is both unique and fun. It's all well and good to create something that sounds like a mindlessly fun joyride, but whether or not it can maintain that momentum remains to be seen. Suffice to say, Kate Leth has thrown out one hell of a promise.
Spell on Wheels #1
Author: Kate Leth
Artist: Megan Levens
Publisher: Dark Horse Comics
Publish date: 10/19/2016
Acquired via Publisher
Our Rating: Yep