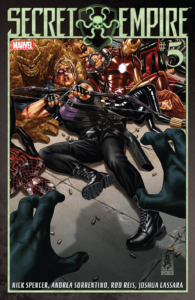 Secret Empire has become a bit of of a joke between our little band of comic aficionados. Jen just laughs at us while we discuss what might have happened in Secret Empire. None of us read the extra side comics, so we're all completely clueless. At this point, it's just comical, especially when we read issues like #5. We have absolutely no idea what is going on, and we only have slight clues as to what Marvel is suggesting.
The big questions we have are who is the old guy, is it possible Steve always was a sleeper Hydra agent, and what is this forest scene? Also, that last panel? Seriously, Marvel, what are you trying to pull with that?
Secret Empire has so many subplots within the plot, it's already hard to follow. Factor in the other series into the matter, and it's impossible without following all of the others. From what I can gather with my limited knowledge, Black Widow allowed herself to be captured by the Viper. She was to serve as a distraction for her younglings so they could complete a rescue mission. She also wanted to get Viper on her side a little bit, as she's skimming the top off Stevil's rightful earnings as a dictator.
But who are they rescuing? They're successful, but I have no idea who it is. He's an old man, apparently on life support. I have one little guess, that it's the real Steve. He never did get his youth back and Kobik whisked him away to replace him with this…whatever. Considering none of my other guesses have been right, what do I know. At least these younglings bring some entertainment to whatever is going on.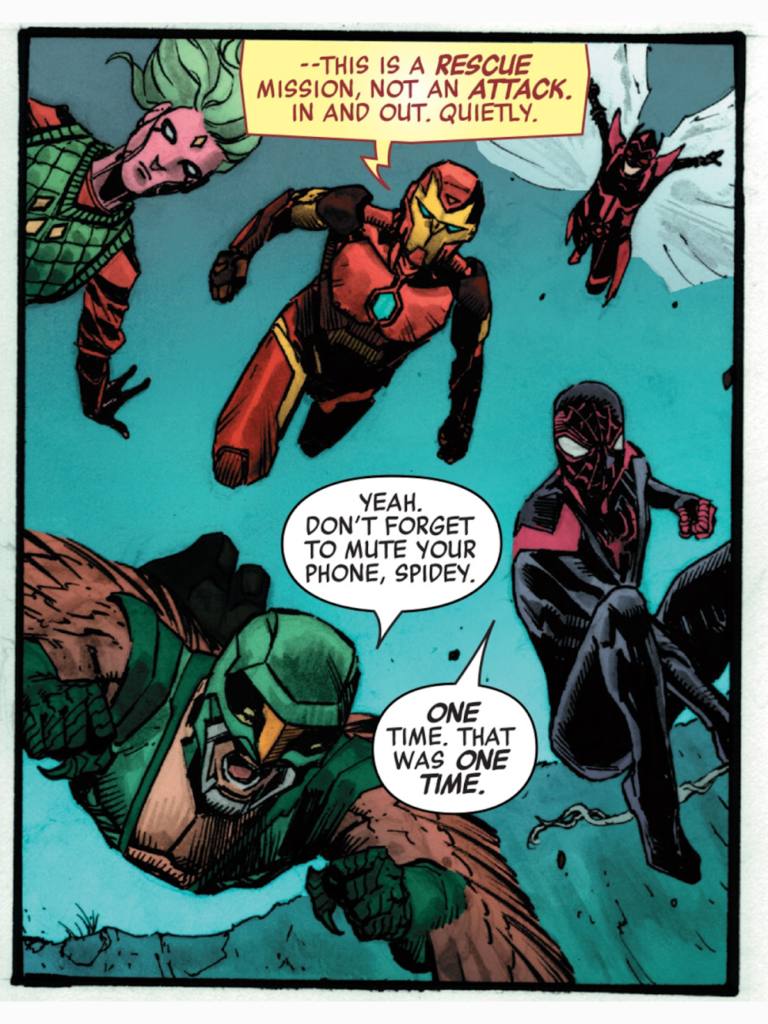 Then the questions just explode forth. We thought Quicksilver was the mole because of Wanda, but it's actually Mockingbird? She leads Hydra to their Underground base where they seem to be annihilated? And why is Beast, a mutant, someone Stevil is trying to kill/incarcerate, meeting with him as an ambassador? Why is Odinson fretting over what he should do about Steve and his motives?
It all wraps up with the biggest WTF moment in the forest. Sorry for the spoilers here, but how and why is the Red Skull in the forest? We're at the halfway mark, and everything seems to be more discombobulated than it was even two issues ago. Things should be coming together and making sense, not getting worse. The extraneous series were a big mistake, Marvel. You've really alienated your audience with the split.
Even worse, I'm souring on Nick Spencer, and I've loved Captain America: Sam Wilson. Depending upon how this goes, there's a distinct possibility I'll be avoiding all Nick Spencer titles in the future, including CASW.
Our Rating: Nope
Author: Nick Spencer
Artists: Andrea Sorrentino, Rod Reis, Joshua Cassara, and Rachelle Rosenberg
Publisher: Marvel Comics
Publish Date: 06/28/2017
Acquired via Purchase