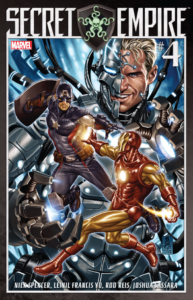 Secret Empire continues its journey along the path of the weird and nonsensical. After destroying one of Atlantis' most sacred temples, Stevil is able to get Namor to surrender to Hydra. My favorite line during the entire ceremony, which includes Namor handing over a Cosmic Cube fragment, was Stevil saying no one regrets blowing up that temple than him. Does he have any idea how abusive spouse he sounds there? I'm so sorry I beat you unconscious. No one is sorrier that I had to do that than me. I really did not want to hit you. If you had done what I asked, I wouldn't have had to do it. I'm very sorry it had to happen. What I would have given to see Namor strangle Stevil right there, dressed in his Nazi-Hydra green.
Of course that's not the weird portion of the comic. That's the only part that's somewhat normal.
What's going on with good Steve in the mystical forest is weird. It gets weirder when the spirits of Sam Wilson and Bucky Barnes show up. None of them know one another, but they know they need to work together to leave whatever place this is. Does this mean Bucky isn't dead? Or is this all happening in Stevil's mind, with good Steve fighting to the surface? Six more issues (so far) to go in this mess, and hopefully the next few are a bit more meaningful than #4.
Both sides of the coin race to get another Cube fragment, which happens to be in the heart of Ultron land. Hank Pym/Ultron greets them all and forces them, as in the real Avengers, to sit down and have a nice meal together. It was so bizarre, but at least Pym's apron made it all worth it.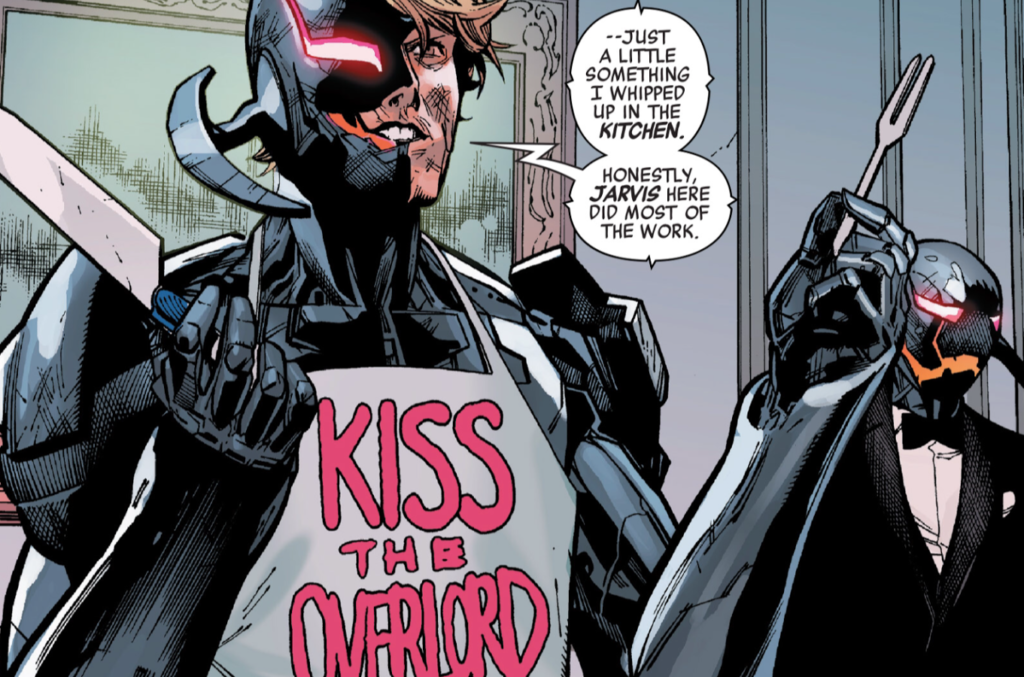 Whereas the Pym/Ultron that visited Uncanny Avengers was most definitely Ultron in disguise, this one appears to be more Pym than Ultron. For one, he's not trying to kill them all. For another, he's not on Hydra's side, where Ultron would definitely sit. Pym wants peace, especially peace between his friends. Ultron couldn't care less about the latter.
Pym insisted that this was a family dinner, and it had everything a Thanksgiving meal would have. Tony Stark AI verbally assaults Pym, most likely to see if this is truly Pym, prompting the Avengers to ask him to dial up the sober settings. Stevil and Stark bicker like brothers. Quicksilver pleads with his sister to come back to them. Pym's protege begs Pym to help them. All that was missing was the racist uncle. Sam was sitting right there. The setup was open. I wonder who would have punched the racist uncle first, Stevil or Sam. Perhaps the racist uncle would have reunited them.
But we'll never know.
The entire issue appears to be merely a platform for Pym/Ultron to say, "Hey! I'm still here! Don't you forget about me!" without any resolution. It's very filler-like, which is odd for a mini-series. Perhaps this is why the series was extended from 8 to 10 issues.
Huh, I didn't even mention Black Widow murdering a kid in front of her students. She'd be a great mother.
Our Rating: meh
Author: Nick Spencer
Artists: Leinil Francis Yu, Rod Reis, and Joshua Lassara
Publisher: Marvel Comics
Publish Date: 06/14/2017
Acquired via Purchase