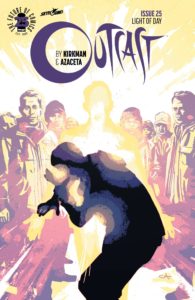 Of all the series I'm reading, Outcast is probably the one that makes me gasp out loud the most. Last issue, Outcast #24, ended on a particularly violent, bloody note, as Reverend Anderson helped Sidney shed his mortal coil. I had mused that there would be no turning back from that particular end, and Outcast #25 pretty much confirms that, while dropping a helluva bomb in our laps. 
Anderson's crisis of faith and diminishing grip on his own conscience has been disintegrating at a rapid pace for several issues. When confronted with the enormity of his actions in this issue, his is to retreat into this fantasy he has concocted for himself, and that is him as the righteous warrior of god. The idea that has kept him going is this idea that he has been the lone force of good facing down the evil minions of hell. Given how much he has sacrificed for this personal idiom, it makes sense that he is unable to accept it could be otherwise. Unfortunately, those around him disagree.
And it's not just Kyle. Despite having been recently "exorcised" himself, Anderson's best friend is not particularly pleased to see his handiwork. In previous issues, when confronted with the idea that perhaps his wife has always had something else living inside of her, he seemed oddly accepting. As Sidney himself pointed out, the real concern was that people were being changed for the worse; perhaps if they remained the self we know, does it matter if it's because of another being cohabiting in their body?
The dramatic irony is thick within this issue, on a few accounts, as Amber and Kyle are finally reunited. We know the promise of one, big, happy family is not in the cards for the Barnes family, but there certainly is a reunion in store. Throughout the series, we've suspected that Outcast-dom is passed genetically. We see Kyle has passed it to Amber, and we had to assume that Kyle's dad passed it to him, but given that he is out of the picture, we've never known. UNTIL NOW.
The real treat of this issue isn't even learning that Kyle's father is still alive, nor did I even spend much time wondering where he's been. Seeing him in action, seeing what the Outcast is capable of was straight up amazing. But more importantly, his appearance may affirm my theory that Sidney's truths were, to borrow a phrase, "from a certain point of view."
What the hell does that mean? Well, throughout his tenure, Sidney has been assuring Kyle and anyone who will listen that their possession/inhabitation/whatever is not a bad thing. That they're merely "fixing" people who are already broken. It seemed a little too good to be true, and we've been presented with conflicting evidence. In the initial issues, people did seem to be possessed by demons. In later issues, it seemed maybe they weren't so evil, and just having trouble adjusting to life on Earth. But some of their actions suggest they're not friendly. To be honest, part of what has made Outcast so great is that I still don't know what we're supposed to think about these things. Seeing Kyle's dad handily dispatching things left and right puts me firmly back in the "these things aren't good" camp.
Outcast #25 doesn't offer much, by way of closure, to what will happen to Reverend Anderson, but it does hint that his and Kyle's adventures may be at an end. I'm not sure where Anderson goes, personally, from this. Or whether or not the sheriff will fully turn on him in the wake of this. What I do know is that Kyle, his father, and Amber all have a very long road ahead of them, and I can't wait to traverse it with them.
Our Rating: YUS
Author: Robert Kirkman
Artists: Paul Azaceta
Publisher: Image Comics
Publish Date: 02/22/2017
Acquired via Purchase