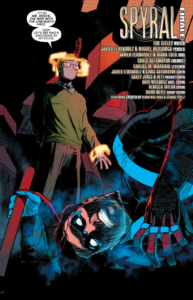 When the New 52's Grayson ended, I was disappointed in the loose ends left open. I don't blame the Grayson team at all, because the way it all ended came across as though the DC heads told them to wrap this shit up now to bring in DC Universe Rebirth. It was all very sudden and abrupt. I thought that was perhaps why there were so many loose ends, especially when it came to Mr. Minos. One minute, he's the leader of the entire Spyral organization, the next he's shooting Helena and fleeing. He met a woman (who turned out to be the No. 1 agent in Spyral) to sell his secrets to, and she killed him without a second thought. We never got to know who Minos was. His face was constantly swirled, which I thought was from his hypnos implant. I had no idea it was actually a mask he wore.
Regardless, before she killed him, he tried to tell her who he was and why he did what he did. She didn't care about either. Well, maybe the readers cared, missy. You ever think of that?
The Nightwing team has decided that now is the best time to wrap that all up and reveal exactly who Minos is/was. It's rather unfortunate that the mystery of Minos is far more intriguing than Minos himself.
Tiger and Huntress dragged Nightwing back into the world of Spyral. Tiger popped up to skirt Nightwing away somewhere, download all of his memories, and then kill him. While their relationship was a strained friendship at best, this seemed rather extreme even by Tiger standards. I admit I was relieved that it wasn't Tiger at all, but a bionic clone. Which of course, this begs the question of who the Tiger clone is and why has he taken over Spyral?
After getting Huntress' former students involved, they learn that Mr. Minos is once again the mastermind. Wait, he was dead, right? Huntress shot him, Agent No. 1 shot him, so he should be most definitely dead. Haha, just kidding folks! No one stays dead in the world of comics, especially when Mr. Minos is really a cyborg. The hypnos implants didn't swirl his face; his face was a swirl. His motives all fell apart after that. Perhaps it was best for Mr. Minos to stay a mystery. Those who never read Grayson probably scratched their heads in confusion throughout the entire Spyral arc.
And then finally, Grayson did what Grayson does best—jump into bed with someone new. After all his drama about Shawn Tsang possibly being the love of his life (whatever, it's Barbara), it certainly doesn't take long for him to hop into the sack with the first girl to reach out to him. Of course, naturally, Shawn saw the whole thing as she was flying to his apartment to apologize. Yeah, this is going to end well.
Also, what does this do for Batgirl and the Birds of Prey? Barbara was rather upset that Grayson moved on to Shawn. Won't things be a little awkward between Helena and Babs? I swear Dick only thinks with his dick half the time. Would it kill him to keep it in his pants for a little longer after a breakup?
I'm guessing it might.
Our Rating: meh
Author: Tim Seeley
Artists: Javier Fernandez, Miguel Mendonca, Diana Egea, and Chris Sotomayor
Publisher: DC Comics
Acquired via Purchase