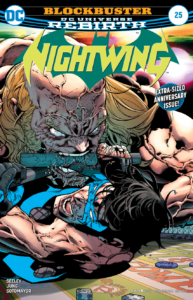 At the end of last issue, it appeared that Nightwing was blown up on Tiger Shark's ship along with everyone else. I really could hear the 1966 Batman TV narrator saying, "How will Nightwing get out of it this time? Find out next week, same Bat-time, Bat-channel." I think I made that same joke last time too. Well, it fits. As for how Nightwing did get out of this scrape, he did so by stopping time.
Yes, I said stopping time. Remember Time Bomb from Flash's visit? His vest is on board the ship, and Nightwing was able to coerce the Clock King to spreading his time field around the ship, protecting everyone for now from the blast. He then uses the last bit of time remaining on the vest to get everyone off the ship before time continues and it all goes boom. Tiger Shark and his buddies are beyond confused, as their last memory was of them standing on the ship, and now they're overboard hanging on debris.
You can see why Tiger Shark would be both mad and confused.
He knows the cops are after him now, and bribes won't save him. Somehow he gets out of the water and into his casino in minutes, ordering everyone to wipe and destroy all evidence of dealings with bribery and the Second Hand. He wasn't fully prepared for Desmond to be standing in his office, demanding he leave Blüdhaven.
I doubt Desmond was prepared for Tiger Shark's own brand of attack dog, but the crime lord did forget that Desmond can turn into Blockbuster at any time and dispatch these…tiger sharks.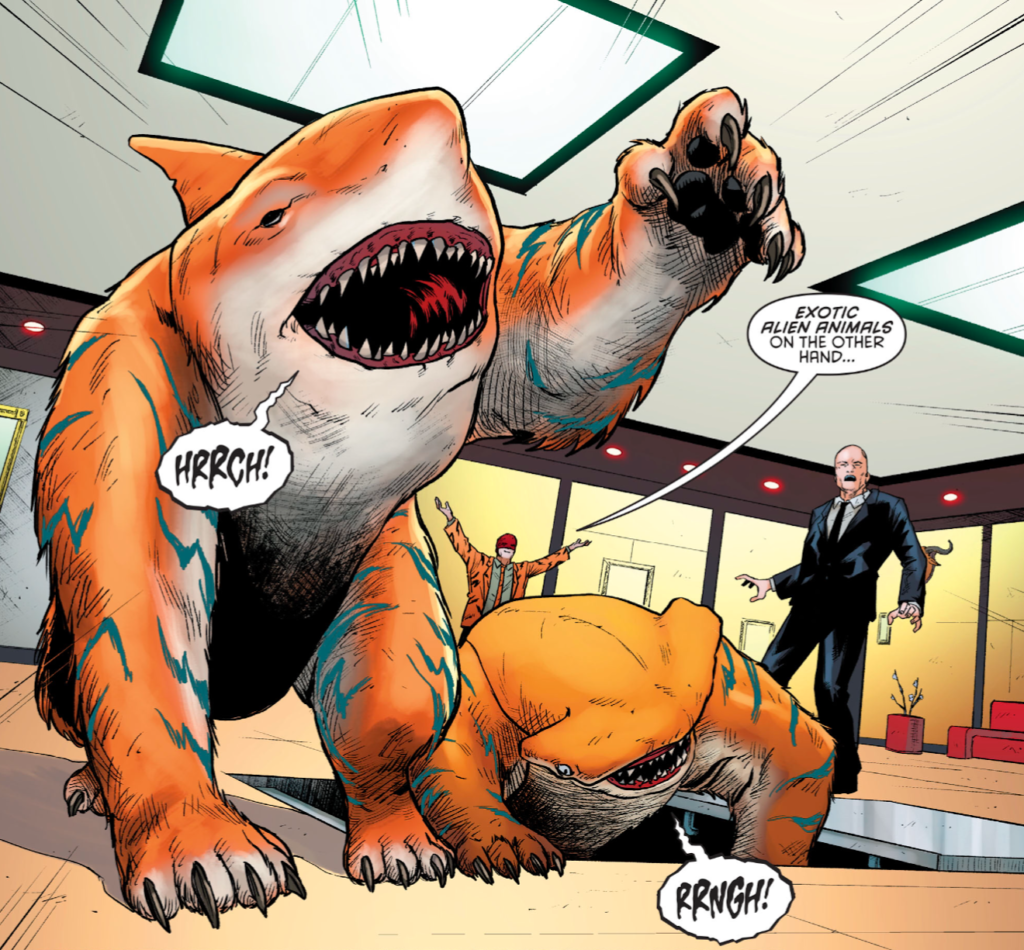 Okay I'm not going to lie. I would pee myself if I saw these coming my way.
So no one died on the ship, but the tiger sharks snacked on a security guard and it looks like Tiger Shark will die eventually. Most importantly, Dick and Shawn's relationship was finally taken off life support. She said no more, Dick goes home alone, and then he does exactly what Shawn wanted him to do: he gets a job.
Hey Dick, why don't you take some time being single before you jump into the next available sack? Just a thought.
Our Rating: Yep
Author: Tim Seeley
Artists: Minkyu Jung and Chris Sotomayor
Publisher: DC Comics
Publish Date 07/19/2017
Acquired via Publisher