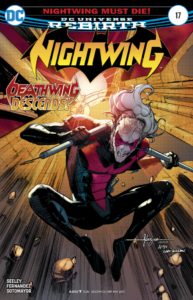 Nightwing and Robin have sped off to Paris, following coordinates left behind in his favorite childhood book Nightwing loaned to Shawn Tsang. Shawn may be pregnant, and well, she may be dead. But he's going to find out, one way or another, and for better or for worse, Damian Wayne is tagging along. Damian does want to help Nightwing, deep down, but he's still obsessed over whether he or Dick will inherit the Batman cape and cowl.
Dick is a little preoccupied with other things, and one of them is trying not to strangle Damian on their road trip. It's like they really are brothers. They're competitive, they know how to push each other's buttons, and they know how to lay the truth bombs on one another. But they also know to help one another when it really counts, such as when Nightwing is hallucinating from a psychotropic drug and he sees all the Dick Graysons from other Earths and realities.
Yes, you read that correctly.
After Nightwing tells Robin that he doesn't know if he even wants to be Nightwing anymore, let alone Batman, they meet Deathwing. He's wearing Dick's New 52 outfit. He has Dick's face, even under the mask made of Dick's face, which is creepy beyond belief. He has Dick's voice, and his nightsticks, albeit with blades on the ends. He slices Nightwing's forehead with one of the sticks, and he has a rather disturbing vision. It's a vision for readers as well, as to what is really going on in the Rebirth Universe starts to slowly unfold.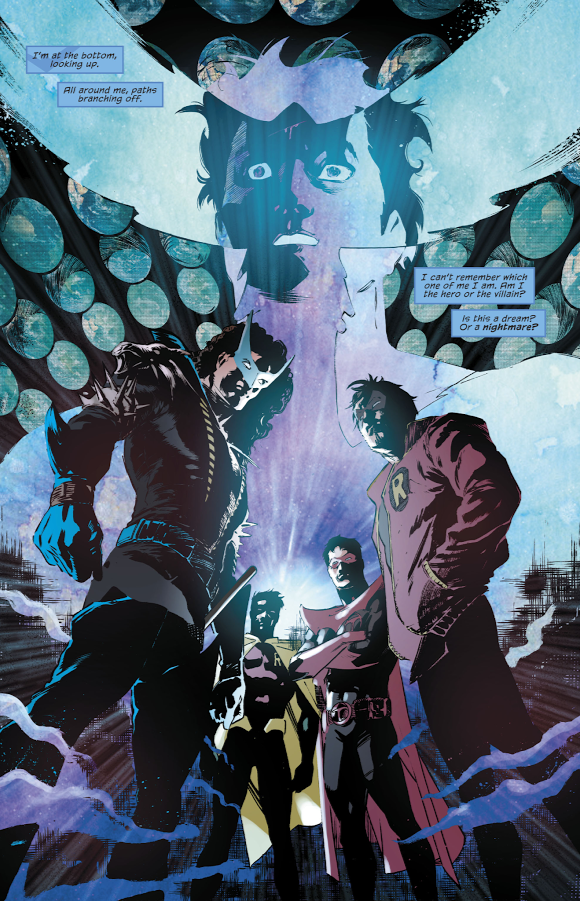 Comic Book Resource wrote a brilliant analysis of this hallucination that is more real to us as Nightwing readers and fans than it is to Rebirth Nightwing. They believe, and I have to concur, that this is not a panel of Easter eggs for fans to enjoy. It's a glimpse into what DC is cooking up in Rebirth, and it aligns with one of my predictions as well. We're witnessing a merging of the various realities and Earths of DC lore.
It's confusing as Hell, but it's nowhere near as confusing as what is going on in Superman, something we're going to discuss in this week's podcast. I hope to God, DC, that this pays off in the end, because this is one seriously bumpy ride.
Going back to Nightwing#17, who is this Deathwing? He, along with a face-masked Robin, appear to be tools of the Dollotron, one of the creepiest villains in Batman lore. This dolled Damian Wayne takes out Deathwing, which Robin sorely needed to snap Nightwing out of his reverie. Those panels, what he says to Nightwing, is the most honesty we'll probably ever see out of Damian.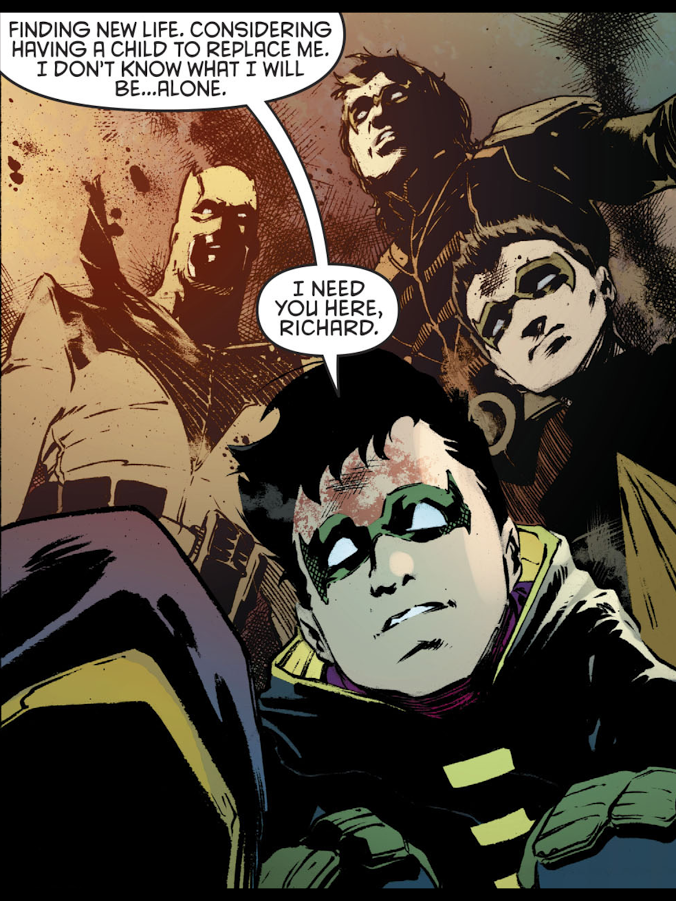 It's nice to see Damian does have pieces of his heart that aren't black. The poor kid never really had a chance in this world to be normal. If Nightwing and Shawn do have a baby, there's no way that kid will have a chance to be normal either.
Our Rating: Yep
Author: Tim Seeley
Artists: Javier Fernandez and Chris Sotomayor
Publisher: DC Comics
Publish Date: 03/15/2017
Acquired via Purchase