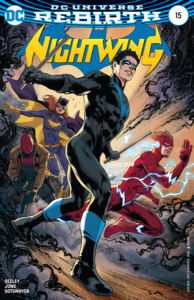 Now that Dick and Shawn are officially together, let's have a little issue about romance, shall we? I don't like them together really, which is due to my own hangups, I admit. So they're together for now. I doubt it will last, simply because nothing lasts in these comics. Dick was raised by Bruce, after all, so he has no idea how to commit to a relationship. Let them have their fun in a sickeningly sweet issue or five, and then we'll see how Dick ruins it all yet again.
I completely expected Nightwing #15 to have such an issue. While it's not my thing, I have no criticisms about his honeymooning period with Shawn Tsang. What strikes me as odd is the fact that he discusses his relationship with nearly everyone. Flash is his best friend, so that's no surprise. Bruce is his father, so naturally Dick will talk to him about his new love. What I did not expect was Nightwing to share his new-found romance with two of his ex-girlfriends and a member of the Batfamily who despises him. Not only that, but he has missions with them? What? What did I miss?
Running around Gotham City with Batgirl makes complete sense. They often solved crimes and the like together, and even though they haven't spoken since Nightwing #3, it's understandable that they would patch things up eventually. According to Jen, he and Batgirl have talked on the phone at least once, regarding who she was dating. It's strange that her new boyfriend isn't mentioned in Batgirl and the Birds of Prey at all, and it's even stranger that Batgirl wishes Nightwing would swing back to her. I'm really starting to wonder about continuity with these series, but I know I should just smile and nod.
However, that's the only mission mash-up that makes any sense.
Since when does Nightwing pal around with Starfire on random missions? She wanted to console him after Tim Drake's "death," but that was the last contact the comics have suggested since he told her in Titans that they would not be getting back together. Color me completely lost on this one.
The biggest head-scratcher is his mission with the Red Hood. The Red freaking Hood. Last I checked from the New 52 and from the Robin Wars was that Red Hood hated Dick Grayson with ever fiber of his being. He may have hated him more than he hated Batman. Dick wasn't a huge fan of his either. But there they are, sitting at a stake-out together, talking as though they've always been the best of friends.
Granted, I don't read Red Hood and the Outlaws Rebirth. Perhaps that would shed some light on the matter, but even if they have mended some fences, I have no idea why Nightwing would team up with a killer. Has he reformed? Is he not really an outlaw anymore? Seriously, what did I miss?
I'm beginning to think I need a sit-down with the Rebirth writing staff so I can understand what has carried over from the New 52 and what has been scrapped completely.
Our Rating: meh
Author: Tim Seeley
Artists: Minkyu Jung and Chris Sotomayor
Publisher: DC Comics
Publish Date: 02/15/2017