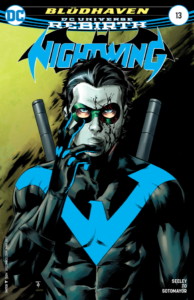 I said last issue a few times that I had a feeling I knew who was behind the murders and frame-ups. I also said that I really, really, REALLY hoped that I was wrong, because the answer was too obvious.
Dammit, I was right, and I'm unbelievably unhappy about it. I strongly dislike such obvious whodunnits. Whatever happened to guessing until the very end? I have so many questions for Mr. Tim Seeley, whom I greatly respect and admire for his writing. Does he have something else in play? Is this a build-up for something greater? Boy, I hope so. Otherwise, I'm going to need Dick to find another place to hang up his tights, because Blüdhaven just ain't doin' it thus far.
Yes, Mr. Nice, one of the head counselors for the Run-Offs group therapy and the literally nicest person in the comic, is the murderer. It's always the super nice guys and/or super helpful people who did it. Thanks to my husband, I've seen enough NCIS to know that. So like I asked earlier, is this a build-up for something greater?
I suppose it somewhat is, because this whole arc was building the foundation for the lead homicide detective to start digging into past murders that were solved rather quickly. She told Nightwing previously that she didn't want any tights (superheroes) in her town. And yet, she's looking for his assistance in solving a few of these murders. If this is where the real twists come in, then all will be forgiven in regards to Mr. Nice.
Should I bother wondering how Nightwing is living in both Blüdhaven and New York? I shouldn't, right? That's a bad hole to run down, right?
Our Rating: meh
Author: Tim Seeley
Artists: Marcus To and Chris Sotomayor
Publisher: DC Comics
Publish Date: 01/18/2017
Acquired via Purchase