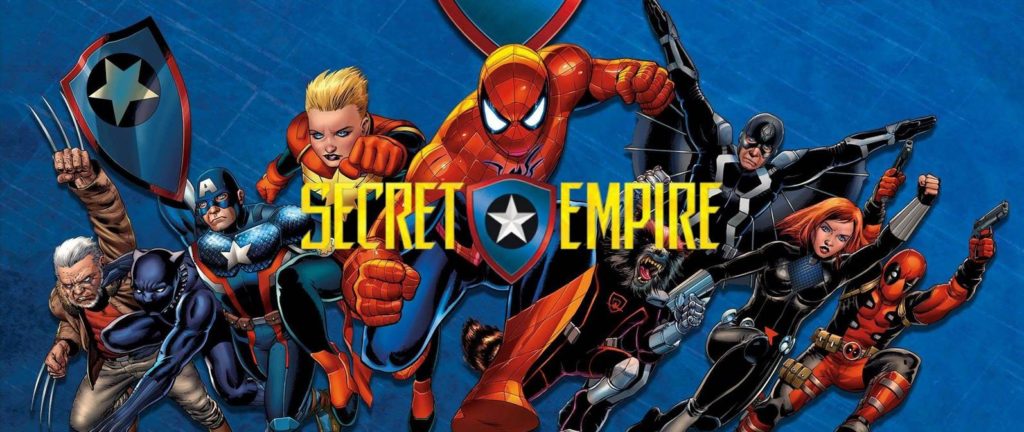 I stopped reviewing individual issues of Secret Empire for a few reasons. For one, each issue was such a mess, it was hard to sort out what was really going on without beating my head against a wall. Secondly, because of that mess, I thought it would be easier to write a sum-up piece about the whole shebang. No more speculation about what the forest was. No more face-palming at every twist and turn.
But now that it's completely over, I can't face-palm hard enough. And of course, I have the biggest question at the end: What was the point of all of it?
With Secret Wars, I can at least say it had a few points to it. Dr. Doom and Reed and Sue Richards have disappeared. Many characters from the other main Marvel universe died, perhaps permanently. (BWAHAHAHAHAHAHA I could barely type that with a straight face.) The events of Secret Wars have bled into other Marvel series, such as X-Men Blue. Secret Wars made Miles' Spider-Man more relevant by bringing him into the main universe.
But Secret Empire? Almost everyone who died didn't really die. Kobik came back together and brought the good Steve into the world to defeat Stevil. Yes, the world is an absolute mess because of Stevil, and for some reason Beast is cool with Emma Frost after what she did to the inhumans, but other than that nothing really changed. Good Steve did give back the shield to Sam Wilson. Thor got her hammer back. The X-Men and Avengers are picking up the pieces and reforming themselves. Even Unity team seems to be officially back.
So why did this have to happen at all?
Was it to drum up sales? Was this, as Jen put it, a "thinly veiled political message"? If so, why? When the Uncanny X-Men brought their statement about racism, they didn't go to this extreme. There was absolutely no reason to make Marvel fans this angry for a political message when so many people are already violently angry about our political state. We're supposed to be against all of this extreme behavior, not encouraging more of it. I'm sure that wasn't their intention, but Nick Spencer certainly made it that way.
There's going to be another spin-off series from Secret Empire, called Secret Empire: Aftermath. I'm not giving Marvel another penny in the name of the Secret Empire. I'm actually debating canceling my subscription to Captain America: Sam Wilson, even though I really loved that comic before it went crazy extreme. Come on, Marvel; I know your intent was not to lose subscribers. I may be one, but I know I'm not the only one.
What's it going to be next? Another Civil War? Another war between the X-Men and inhumans? Another Secret something?
Well, if that's what you have planned, can you please make sure the savior isn't some vomiting inhuman? I mean, really.