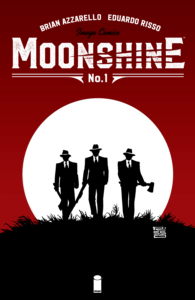 One of my favorite relics of the '90s was Brian Azzarello's 100 Bullets. It was published back when Vertigo was the coolest comic publisher on the block; in the days when authors were experimenting with how dark and "gritty" the comic world could go. When I saw he was doing a new series for Image, Moonshine, featuring prohibition-era gangsters, the deep South, and (possibly) supernatural elements, well, I signed right up. But because I've been a bit of a hot mess this past month with hockey, comic reviews, job changes and everything else, I'm a little slow getting to review Moonshine #1.
Moonshine begins with a fairly common story element to prohibition-era tales: A big-city mob boss sends one of his better men, Lou Pirlo, down to the deep south, where a hillbilly is making good alcohol. The idea is to offer a somewhat laughable amount of money, thinking any money will impress those too ignorant to know better. The big city talker will talk, the country bumpkins will oblige.
From the start, it's clear that Moonshine isn't dealing with your run-of-the-mill hicks making alcohol to stick it to the man. Holt is far smarter than the city folk gave him credit for, and he's not going to take kindly to this little gesture. On the other hand, it's clear that Masseria in't going to take kindly to Holt's abrupt reply.
More interestingly, there is something strange going on in this part of the woods. The signs point to a werewolf hunting the enemies of the Holt family, but it's hard to tell from the brief glimpse we're given, in Moonshine #1. Either way, Lou Pirlo is in for quite the business trip, and, given that it's Mr. Azzarello, it's sure to be bloody as hell.
Author: Brian Azzarello
Artist: Eduardo Risso
Publisher: Image Comics
Publish date: 10/05/2016
Acquired via Purchase

Our Rating: Yep