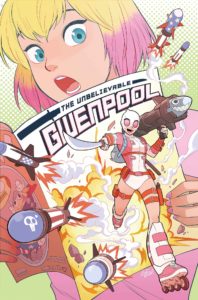 Our dear friend Larry and I argue back and forth which is worse, Marvel or DC, quite often. You may have heard our podcast on that exact topic. We still battle back and forth about it, and we shift who wins and who loses. With everything going on with the Watchmen invading DC, Larry conceded that DC was worse. But before I could claim victory for too long, I stumbled upon something called Gwenpool.
2015's overnight internet sensation takes center stage in her own ongoing series! Gwen Poole used to be a comic book reader just like you…until she woke up in a world where the characters she read about seemed to be real! But they can't be, right? This must all be fake, or a dream or something, right? And you know what that means…NO CONSEQUENCES! Could Gwenpool truly be Marvel's least responsible and least role-modely character to date? She can if she tries!
So Marvel made a female Deadpool who looks an awful lot like Gwen Stacy but is really Gwen Poole? Here was Larry's exact response when I brought up Gwenpool:
seriously, Gwenpool beats out talking chairs, three Jokers and giant baby
I hate to admit it, but he's right.
According to Wikipedia, Gwen first appeared in one of the variant covers for Deadpool's Secret Secret Wars #2, and she became a cosplay favorite nearly overnight. She was literally created as a joke for the Secret Wars, a what-if Spider-Gwen and Deadpool merged, and was instantly loved. Since then, she has been with Howard the Duck (which tells me everything I need to know right there) and her own spin-off series.
She appears to not be a character to take seriously. She has other Marvel heroes cross into her world, but it's more as if these heroes are guest stars from the Scooby-Doo show than canon cross-overs. Her schtick is that she's from the "real world" visiting comic books, meaning more fourth wall breaking and meta-conversations than Deadpool could ever have. It's cool Marvel wants to have a silly comic, and it's definitely better than whatever DC is doing with Scooby-Doo, but a Deadpool copy-cat? Really? And with an obvious clone of Gwen Stacy, who should be, by all accounts, incredibly dead.
Well, here's to you, Gwenpool. I dedicate this Monday morning mimosa to your incredibly pink self. May have to add in some Chambord to make this mimosa as pink as your hair.