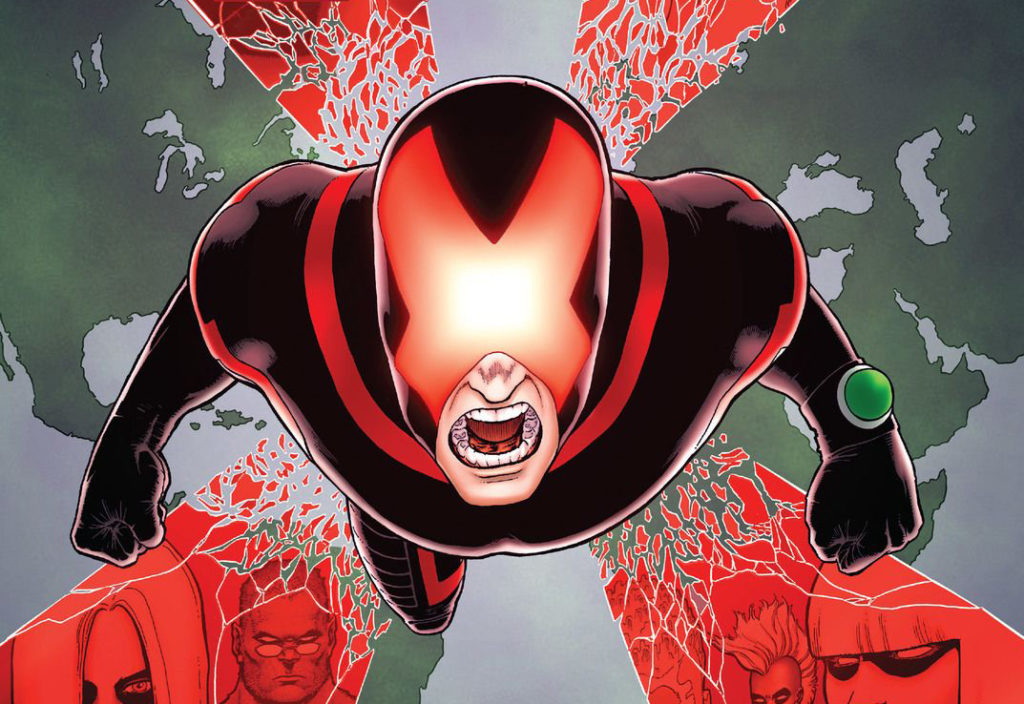 As I mentioned in last week's Mimosa, I picked up the 2013-2015 runs of both Uncanny X-Men and All-New X-Men to fill in some gaps from the start of the 2015 series. Gaps such as what happened with present-day Cyclops, how did the young X-Men get here, and what the fuck happened with Angel's wings. Unfortunately, the way those series ended was a culmination in Uncanny  X-Men #600. It was a very sweet way to close the anger and angst from the mutants, especially for Scott to somewhat make peace with what he did. That said, reading all of the back issues did not explain how and when present-day Cyclops died. All you can garner from Extraordinary X-Men and the current All-New X-Men is that he went to war with the inhumans and lost. I suppose that in of itself is enough, but I still wanted to know more.
Thankfully for me, the writers, Jeff Lemire (All-New X-Men, Extraordinary X-Men, Inhumans vs. X-Men, Flashpoint) and Charles Soule (Death of Wolverine, All-New Inhumans, Uncanny Inhumans, Inhumans vs. X-Men) also wanted to spell out what truly happened to Scott Summers. Death of X was four issues long, and it may be the saddest mini-series I've ever read. What really happened to Scott and how Emma Frost handled it will stick with me for years to come.
Scott was still running around with his Uncanny X-Men crew (Magik, Goldballs, Emma Frost, Iceman, Stepford Cuckoos) when they intercepted a distress signal from Muir Island. Jamie Madrox a/k/a Multiple Man was essentially screaming for help on the island. When the team touched down, they were greeted by a gas and thousands of Madrox copy corpses. They learned that the terrigen clouds sweeping the planet are toxic to mutants. The mists had never been toxic before, so perhaps it's something in the nature of the clouds that is causing the M-pox. Scott sent an SOS out to Beast, and then collapsed in a coughing fit.
After that, he and Emma declared war upon the inhumans, and attacked one of the terrigen clouds. Scott sacrificed the mutant named Alchemy, as he changed the composition of the cloud to render it harmless. By then, the inhumans arrived, and Scott moseyed up to them, declaring his war. Naturally, they didn't take too kindly to his threat of destroying the second cloud, and Medusa ordered Black Bolt to kill him right there.
Only, that wasn't Scott. Scott never left Muir Island; he died during his SOS call to Beast. Emma used a projection of Cyclops to start a war and rally the mutants together. The only ones who know are the Stepford Cuckoos, who learned on accident, and Scott's brother Alex Summers, whom Emma showed Scott's real body. When it hit me what Emma did in Scott's name, I actually felt grief. I thought something was strange after his coughing fit. He let Emma know under no uncertain terms that they were through as a couple previously, and suddenly after his coughing spell, she is hanging on him, calling him "darling" and "my love." I thought perhaps they made up some time after the end of Uncanny X-Men in 2015. Turns out my intuition was correct. Emma used him, and used his name to become a martyr for mutantkind.
Scott didn't go out in a blaze of glory, standing up for his people. He died of an awful disease. Who knows what Scott really would have done if he never contracted M-pox. Maybe he would have gone to war. Maybe he would have sacrificed Alchemy. Maybe he would have worked with Hank to get the mutants to safety and find a cure. Maybe he would have simply talked with Medusa to find a compromise. There's a whole lot of "maybes" that never happened both because he died so quickly, and because Emma Frost set out her own agenda.
It makes even more sense now why Emma Frost headed up the plan to attack the second cloud while Hank was working on a cure. I really liked Frost in the 2013-2015 Uncanny X-Men. Now, all I see is a master manipulator.