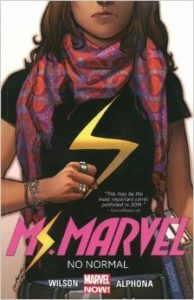 As a parent, navigating the world of comic books can be tricky, at times. So very many of the "classic" super hero comics have shockingly mature story lines that are in no way appropriate for kids. Others rely so heavily on crossover issues (see: the entire Civil War story lines) that it's just silly to even attempt to get your kid into one series. As such, I spend a lot of time pre-screening comics for my 3rd-grade daughter. 
It's not to say there aren't series out there which aren't kid-friendly. In fact, there are several. I've gathered several series for my daughter and I'm always telling parents about them.
The Series: Ms. Marvel
When Carol Danvers was promoted to Captain Marvel, the mantle of Ms. Marvel was open. It fell to a seemingly unlikely candidate, an awkward teenage girl, living in New Jersey, who happened to be a Pakistani-American, and Muslim. Her name is Kamala Khan and she now fights to defend Jersey City as Ms. Marvel, and even fights with the Avengers from time to time.
Why you'll love it: 
Much like Lumberjanes, let me count the ways in which this series is so very, very important. First, Kamala is so very relatable and "real" feeling. She worries about typical teenage stuff, while having tremendous super powers. She worries about helping others and being a good person, in addition to being a super hero. She struggles with her own identity and self within her peer group.
Second, she reminds us that some people are different, and yet just like us. She's Muslim and comes from a devout family. They have different ideas and traditions than most of us, and yet, they feel like the family next door. It's a subtle, delightful reminder that we should accept everyone around us.
Third, she's so very empowering. As she deals with stuff that real girls face (bullying, body issues, social issues), she always looks within herself and reminds both herself and readers that we are who we are, and there is strength in that.
Fourth, she kicks butt. She's a super hero through-and-through and can throw down with the best of them. In fact, she does throw down with the best of them and has a series of encounters with everyone from Wolverine to Thor. It's a great younger-audience-centric series that introduces you to the wider world of Marvel.
Why you might not love it: 
It's a Marvel comic. That means she's part of Civil War II, meaning there are a lot of crossover issues. Personally, I skipped them and while we're unsure about some plot details, neither of us care enough to go back and read 10 other issues to learn about them.
Also, she's an inhuman. Given that Marvel is currently backing their inhumans vs. X-men storyline pretty hard, Ms. Marvel does occasionally require you to know a little of the history within Marvel. It's not necessary, but you mind find yourself Googling certain things if you weren't a die-hard Marvel fan in years past.
And that's really the worst thing I can say about it.
Where you can get it:
Amazon, Comixology, Barnes & Noble, your local comic shop.