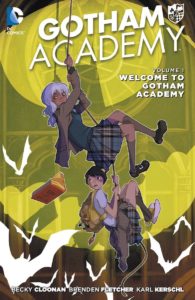 As a parent, navigating the world of comic books can be tricky, at times. So very many of the "classic" super hero comics have shockingly mature story lines that are in no way appropriate for kids. Others rely so heavily on crossover issues (see: the entire Civil War story lines) that it's just silly to even attempt to get your kid into one series. As such, I spend a lot of time pre-screening comics for my 3rd-grade daughter.
It's not to say there aren't series out there which aren't kid-friendly. In fact, there are several. I've gathered several series for my daughter and I'm always telling parents about them. 
The Series: Gotham Academy 
Gotham Academy is DC Comics' attempt to capitalize on the tween market, as the comic is unquestionably written to a younger audience. It stars a group of kids at the titular Gotham Academy, as they navigate the ins and outs of living in the most famously "weird" city in the world. There are mysteries to solve, monsters to find, and famous figures to reference.
Why you'll love it:
Well, "love" might be a really strong word, here. If you're looking for a way to introduce younger kids to the world of Gotham, and the denizens within, you could do worse than Gotham Academy. It's the type of entry that pays homage to its own world, while also creating new content. That is to say, Bruce Wayne appears every now and then, as does his alter ego, but he never takes center stage. It's more of a wink and nod to the fact that Gotham is weird, and all citizens get to experience that.
At its heart, Gotham Academy attempts to be a Scooby-Doo-style mystery offering. The kids are often hunting down weird monsters (vampires, witches, etc.), and trying to solve both the mystery of the day, as well as a long-reaching mystery surrounding the school itself.
Also, the majority of the characters are kind of fun versions of standard young adult archetypes: the jock, the bad boy, the goth, the adventurer, the "girl with a past," and so on. On one hand, it makes for somewhat formulaic story-telling, but also feels familiar, as comic characters should.
Why you might not love it: 
<sigh> This series is all over the place. Sometimes it wants to make Olive, the main character, have some sort of special powers and ties to the criminal/mystical world of Gotham, other times the series seems to forget that was ever a thing. The series cannot pick a theme and stick with it, to save its life.
Speaking of that, the series occasionally feels like Gotham Academy: 90210. That is to say, there is quite a bit of melodrama and personal drama. Granted, this is in-sync with both the target audience and comic books in general, but it feels particularly palpable in this series. My daughter, however, can't get enough of it.
Despite featuring three main female characters — Olive, Pomeline and Maps — there are enough male supporting characters that Gotham Academy definitely skews toward a female audience, but I don't think it's entirely gendered, either.
Where you can get it:
Comixology, your local comic shop.