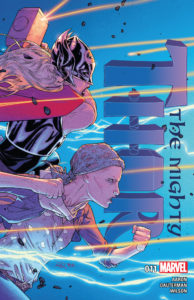 The Mighty Thor has been on a rather weird trip over the last several months. Thor has been battling Dario Agger, also known as the Minotaur from Greek mythology, as he takes over the world by aligning with Malekith and the Dark Elves to become a multi-realm corporate conglomerate. Yes, it literally is all about business with Dario. It's evil business, but still just business.
In last month's issue, SHIELD agents have been stalking both Thor and Jane Foster to uncover the identity of Thor. It doesn't matter that Thor is battling dark powers, including Dario in full Minotaur form as he battles against Exterminatrix and Silver Samurai in their attempt to take over his company. It also doesn't matter that Dario has an Agger Imperative in place, meaning that if he is ever killed or removed from power, his Roxxon Island will rise up and fall like Sokovia in the Age of Ultron film. If he can't take over the world, by golly, NO ONE CAN.
So yes, while this massive battle is going on between Thor, Dario, Exterminatrix, and Silver Samurai, SHIELD shows up to arrest Thor as Jane Foster. GREAT TIMING, GUYS.
But then at the very end of the issue, Jane Foster walks through a portal to save Thor, who was shot with a golden bullet. Considering Jane Foster is Thor, what madness could this be? I've been climbing the walls since then to find out how this can happen. Unfortunately, it was an incredible let-down, but at least the journey to get there was beyond entertaining.
As I said earlier, a battle is going on between Dario, Exterminatrix, and Silver Samurai. They're still fighting while the SHIELD agents are scratching their heads and Jane is surgically removing the gold bullet from Thor. Roz from SHIELD happens to be there too, and she's trying to reason with Dario while the other agents are standing there rather dumbly. She convinces Dario to abort the Agger Imperative, and as he starts to do the voice override, the other agents shoot him in the head. I probably should have mentioned that this is all happening on Roxxon Island while it's rising in the air, and now it's falling. And they're all still fighting each other. And Jane is still trying to remove the bullet from Thor. While the island is falling out of the sky and they're all in a zero-G environment. Hysterical barely describes it.
Dario can't stop the falling island now, but New York is saved thanks to both Jane and Thor. They find another way to stop the island, although how they do so is a bit like the discovery of penicillin. Now that the world is saved, and Dario and villainous friends are on the ground, in human forms, and arrested, the real corporate battles begin.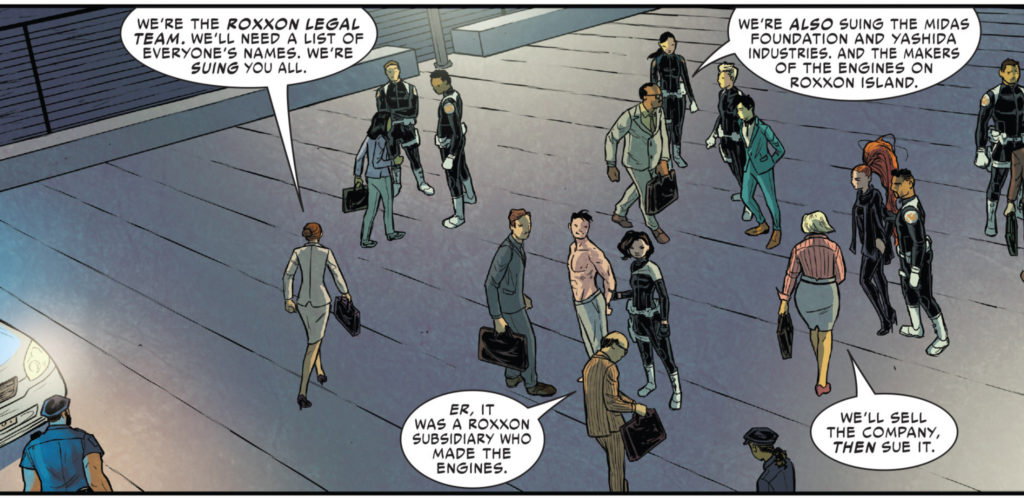 Not much strikes fear into the hearts of businessmen and superheroes like lawyers.
So who was this Jane Foster? I am going to spoil it, because I can't believe this was even made a thing to begin with. Of all the possible explanations, the writing team decided it was mighty Mjolnir, the hammer, that took the form of Jane to keep Thor's identity a secret. Yes, the hammer is sentient.
The Mighty Thor #11 is by far one of the most entertaining comic issues I have read in such a long time. Actually, The Mighty Thor in general has been great, even when it was just Thor before the second reboot. Everything has been so well done, from handling Jane's secret identity, to Odin battling Frejya, to even Loki with the Ice Giants. And then this issue, was so hilarious with fighting on a falling island, the SHIELD agents coming in at the worst possible time, Thor undergoing surgery while the island is falling, and then the agents halting Dario as he's trying to stop the Agger Imperative from completing. When they land, the humor just keeps coming. To end the issue with learning that Mjolnier is apparently a sentient being was a big THWUMP in the ground when it should have been a knock out of the park.
At least we probably won't see those bumbling agents again.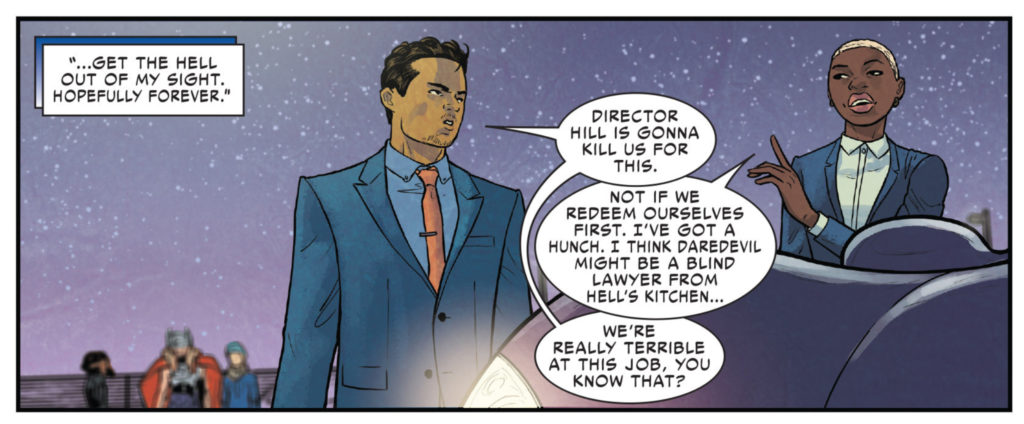 Author: Jason Aaron
Artist: Russell Dauterman
Publisher: Marvel
Publish Date: 09/21/2016
Acquired via Purchase
Our Rating: Yep