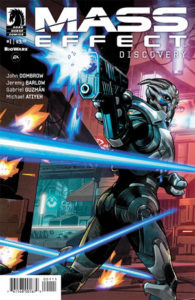 I played quite a bit of Mass Effect Andromeda when it released this spring. A lot about the game bothered me, especially the story. However, two things about the story really irritated me:
Never dive into who the benefactor behind the Initiative is/was, and
Never solve Jien Garson's murder.
The game presented quite a few side quests on both, and then dropped them like an afterthought. A friend said that maybe it would be explored in books or comics. While I absolutely adore the extended universes of video games, they should never touch on major, unresolved plot points from the games. The extended universe is about learning background information about an incident or character, or a story through someone else's perspective. It should not be required reading for the games.
From Mass Effect Discovery #1, however, it looks like we're getting the facts on one of the above unresolved mysteries—the Initiative's benefactor. If this is indeed the case, I will be sorely disappointed in EA and BioWare both.
There's absolutely nothing wrong with the comic, in of itself. It tells the story of the Andromeda Initiative before it left Earth, when it was still gathering people, resources, etc. The entire project doesn't sit right with many turians on Palaven, and one agrees to go undercover to try to join the Initiative. They're afraid that this sudden new benefactor behind the project is not being honest with anyone on the project or anyone at all in the galaxy. The turian for the job happens to be one of my favorite turians from the game, Kandros.
As such, I know that Kandros does join the project under his real name, as Security Director Sloane Kelly's second-in-command. But how he goes from deep suspicion to all in is fascinating to me. I'm also curious if they touch on Kandros' time when he was off the Nexus under Tann's orders. (See, THAT'S the stuff the extended universe needs to be.)
Before the Initiative can trust Kandros, they need him to find a gifted quarian scientist. A crazed salarian with a glowing eye also wants the quarian. Is the salarian the benefactor? Is it whomever has incurred the salarian's wrath? The comic hinted toward both options in the beginning.
I really do hope that the comic doesn't reveal who the benefactor is, or who killed Jien Garson. At the very least, DLC for the game needs to reveal those, not extended lore. In the meantime, I'm going to sit back and enjoy Kandros' ride. The Mass Effect comics in the past have always been top notch, and this one appears to be no different. Even if they do reveal the benefactor, that's on BioWare and EA, not Dark Horse or the talented comic crew.
Our Rating: Yep
Author: Jeremy Barlow
Artists: Gabriel Guzman and Michael Atiyeh
Publisher: Dark Horse
Publish Date: 05/24/2017
Acquired via Publisher