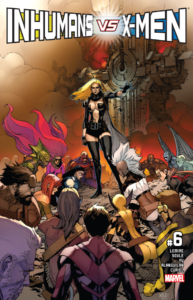 At last, it's here, the final pages of the Inhumans vs. X-Men saga that crossed over 5 other series. It's done, and it was as explosive as I hoped it would be.  The ending wasn't entirely what I hoped, but I think it was still left on a good note. So much was wrapped up, no loose ends were left, and everyone pretty much hugged it all out. I rather hope that the mutants and inhumans work together in the future.
Most importantly, Emma Frost's true character came through, the sinister White Queen I remember from the 90s Hellfire Club. Scott breaking up with her and refusing to get back together with her broke her so completely. Any compassion she ever had for anyone, including mutantkind, died the moment Cyclops did.
That said, I wasn't fully prepared for how heartless and insane she really became.
Everyone, literally everyone crashed together in Iceland where the terrigen cloud is currently sweeping the planet. Everyone is mad at one another, everyone is yelling, no one is talking; it's the perfect combo for a meaningless war. The only one who questions what Emma is suggesting is Rogue, who tells her, "I thought we were here to rescue Forge, Emma, not kill inhumans!" Emma so charmingly responded, "Oh Rogue, you poor, naive dear…it was always going to be both."
And thus begins Emma's downward spiral.
When the inhuman reinforcements show up, Medusa thinks they finally have a fighting chance, but instead, her reinforcements are there to talk her down. They explain to her why the mutants were attacking the cloud. At that moment, Medusa answers the question I've been asking since this all began:
What? Why didn't they just tell us, Iso? We would have found a solution. It didn't have to become…THIS.
It's Medusa herself who pushes the terrigen-doomsday button and rids the entire Earth of the terrigen. The X-Men are more than fine to stop fighting and talk with the inhumans, but not Emma. She wants to kill them all for killing Cyclops. Thankfully young Scott can put an end to that farce, and as everyone turns on Emma, she summons Sentinels from the depths of the ocean. These are Sentinels she has reprogrammed to target inhumans. Emma slaughters inhumans left and right, starting with an entire luftballoon city of inhumans.
I really thought she was going to die. Magneto was ready to kill her, Medusa had her wrapped up in her red hair and was slowly crushing her, even in her diamond form. But it was Havok who stops them and rescues Emma. She thanks him profusely, but he told her it wasn't for her; it was the last thing he could do for Scott. That panel broke my heart. Emma doesn't deserve forgiveness, and she's brought the world's ire on herself. Perhaps that's the greater punishment than death, as she welcomed with open arms the chance to be with Scott in death. I know this isn't the last we'll see of Emma Frost, but it probably will be for awhile.
The arc has come to a close, and now both the inhumans and the X-Men have to regroup and figure out where they go from here. Medusa has made big changes in New Attilan, and the mutants have a laborious process ahead of them to get the mansion out of X-Haven.
All around, IvX was an incredible arc in the mutant universe. I still say it's too difficult to read without reading at least two or three of the other series, but it's well worth the time and extra money.
Our Rating: YUS
Author: Jeff Lemire and Charles Soule
Artists: Leinil Francis Yu, Gerry Alanguilan, and David Curiel
Publisher: Marvel Comics
Publish Date: 03/08/2017
Acquired via Purchase