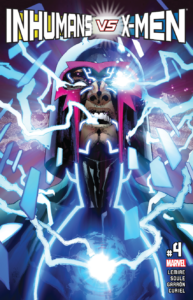 With last week's All-New X-Men, the inhuman Mosaic took control of young Cyclops' body and used him to steal a Blackbird and escape. I assumed from that tale, as well as from Mosaic's words, that he journeyed to the X-Men's base via Magneto from the battle. Inhumans vs. X-Men #4 proved my assumptions rather wrong. Since we know of Cyclops' experience with Mosaic, now we know about the body jumping from Mosaic's point of view.
At first I thought that perhaps this one should have come first, but no, Marvel was right in their sequencing. It helps immensely to already know of Mosaic and Cyclops' journey together before seeing it all from Mosaic's point of view, especially when it comes to what he learned through body hopping. Cyclops wasn't the only one to get a revelation from Magneto's memories.
Mosaic was not at New Attilan at all. He is one of the younger inhumans that Ms. Marvel summoned after Iso's escape from the battlefield. He traveled to Muir Island to infiltrate the base and learn where the X-Men were keeping the royals hidden. They selected Magneto as the best target, because with his helmet, none of the telepaths would know that he was compromised. As we already know, Mosaic was successful in seizing Magneto's body and tapping into his memories. We also know that Magneto was mentally tougher than Mosaic was prepared for, and he was forced to vacate the premises prematurely.
But thanks to Mosaic's temporary body snatching, we now have this amazing facial expression of Old Man Logan.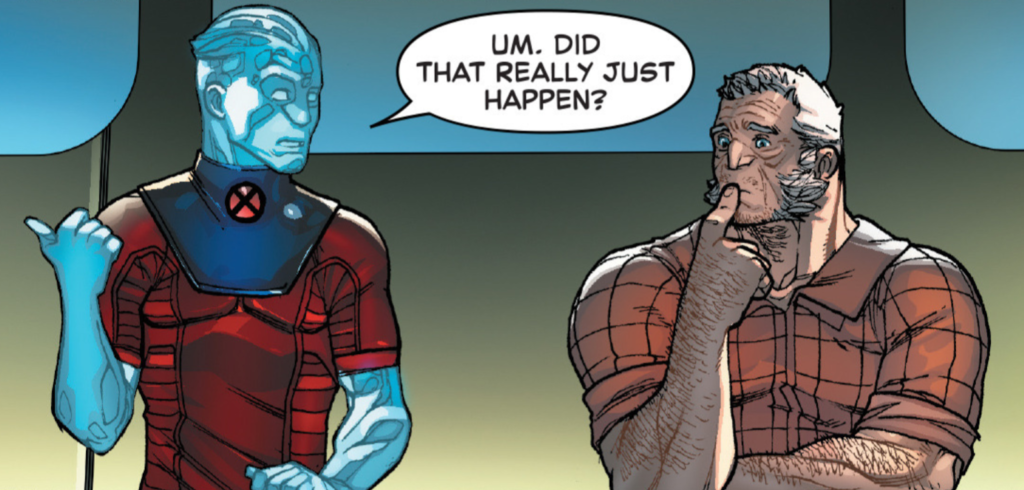 Mosaic did learn where the mutants are keeping the royals. But that wasn't all he learned; he now knows why the mutants were attacking the Terrigen cloud. The inhumans thought that the mutants were simply declaring war over the M-pox; they had no idea that the cloud was making the Earth inhabitable for all mutants.
He brings this news to his fellow young inhumans, thanks to kidnapping Scott's body and stealing a Blackbird. Now they understand why the mutants are behaving the way they are, and Ms. Marvel asks the question everyone is thinking.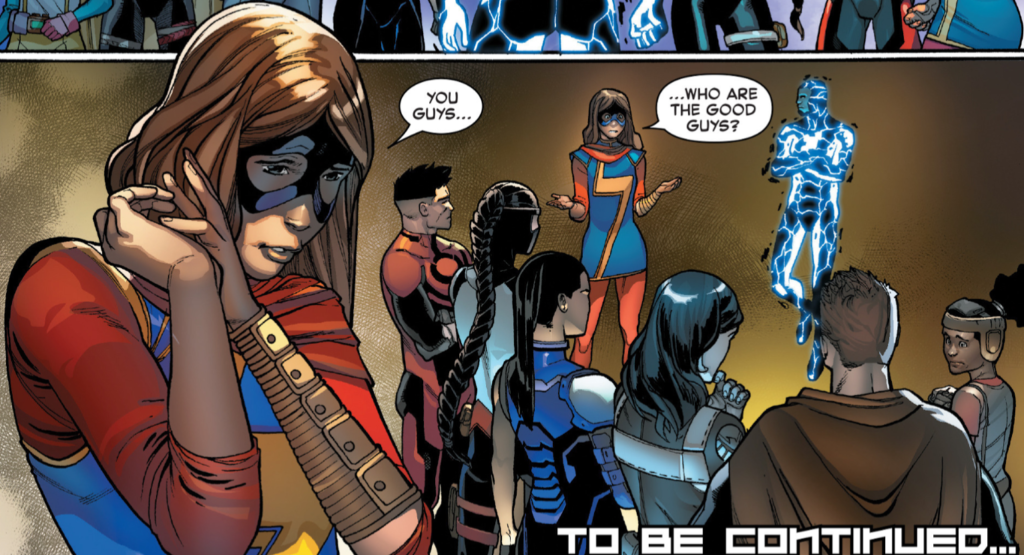 Which, once again, brings around the question of what would have happened if the mutants shared Beast's findings with Medusa? It's possible Medusa would have offered her condolences and said, "Oh well. Have fun on Mars." It's also possible she would have come up with a compromise. We'll never know, because talking things out before acting never creates good drama.
And this is excellent drama.
Our Rating: YUS
Author: Jeff Lemire
Artists: Charles Soule, Javier Garrón, and David Curiel
Publisher: Marvel Comics
Publish Date: 02/08/2017
Acquired via Publisher