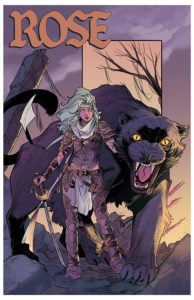 Just when you thought Image Comics couldn't get any more awesome, with the triumphant return of Rat Queens, the drop the news that they're bringing a new female-centric fantasy comic to life, Rose. Wonder Woman author Meredith Finch, and Ig Guara (do yourself a favor and Google his work on Batman: Arkham Knight), are teaming up to bring some kickass fem to the high fantasy genre.
ROSE is a classic fantasy tale about a girl trying to restore balance to a broken world. Rose must connect with her Khat—Thorne—to become the Guardian the world needs. But things aren't easy for Rose and Thorne, as the powerful sorcerous Drucilla has many powerful and demonic allies—all of them focused on stopping one scared little girl who's desperately trying to stay alive and do what's right.
Oh. My. God. OK, let's break this down, shall we? First, one of Finch's best selling points is her dynamic look at female characters and the friendships that women form. Her run with Wonder Woman really recharged the iconic hero for a lot of female readers, and for good reason. These are all things that the female high fantasy genre have really been missing for quite some time. The aforementioned Rat Queens was a lone bastion of unique awesome within a sea of highly questionable and downright banal fantasy offerings.
Second, a badass female villainess? Um, yes, please. I've often lamented that the fantasy genre doesn't do female villains enough credit. Rare is the strong female villain, and Drucilla is already conjuring images of one of my favorite evil ladies, Queen Taramis from the criminally underrated Conan: The Destroyer.
Rose sounds as though it's going to occupy a traditional fantasy setting, ala Red Sonja, but without a lot of the baggage attached to the property. Most importantly, even from the description it's clear that Rose is going to show a lot more growth and development as a character. As much as I've always enjoyed Sonja, she has, over the years, been a very static character. It'll be nice to see a new character who has some ground to cover. Plus, it has a giant cat — excuse me, Khat — for cryin' out loud. How can this not be amazing?
The series debuts in April, and you can bet your over-grown cat that I'm going to be reading this.