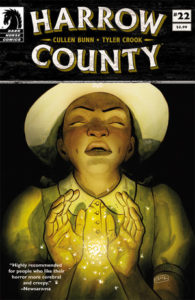 When I finished Harrow County #21, I knew things were heading downhill for Emmy and Bernice. By the end of Harrow County #22, all I could do was sigh sadly. I suppose I always knew this day would come. Maybe not Bernice specifically, but a point at which Emmy's optimism would eventually force a decision. But as much as it kills me to see two best friends torn apart, I really like where this is going.
One of the things that has made Emmy such a compelling character is her ability to see good in both the haints of Harrow County, and the people. Emmy doesn't care what Priscilla and her ilk were doing before she showed up to help them; what matters is that now they're sweet creatures. Bernice's revelation that Priscilla — or one of her kin — bit a man's fingers off doesn't shock Emmy. What shocks her is that people wouldn't let that sort of transgression go. That's not a great mindset, no matter how well-intentioned. As much as I don't want to see Bernice and Emmy opposed to one another, it's impossible to not see Bernice as the realist of this pairing.
Bernice has always been an equally compelling counterpoint to Emmy. Unlike most comics/stories in which our heroine's BFF is just a sounding board for the heroine's adventures, Bernice has always had her own side story. Her interaction with Lovey, several issues ago, is a great example. There has been a magic lurking within Bernice, we just haven't yet seen it. Likewise, we weren't properly introduced to Lovey's magic, other than her jarred snake collection. I have a strong suspicion that we're going to learn a whole lot more about Lovey's ways through Bernice. All I can say is YES PLEASE.
Throughout the series, Emmy's greatest foes have been clearly evil or clearly out to do harm. Ever since she resurrected those hunters, I've had a sneaking suspicion that the story was going to morph into someone having to deal with Emmy. That challenger has emerged. Given Cullen Bunn's comic history, it's hard to not draw parallels between Emmy/Bernice and Professor X/Magneto. Except it's looking like in this series, Emmy is going to be Magneto. Who saw that coming?
As a complete aside: This is, without question, my favorite cover of the entire series. Not only does it clearly represent Bernice coming into her own, but the look on her face, the details on her hands and the glow of the fireflies are just amazing. Tyler Cook, won't you please come to Denver Comic Con?!