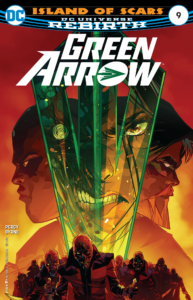 I know I've been saying for awhile now that I'm close to canceling my Green Arrow subscription, and #9 may have tipped me over the edge. It's a dichotomous quandary for me, and I wish it was an easy decision. On the one hand, the series so far has done what I've wanted. It's reunited Green Arrow with Black Canary, and they're great together. Ollie's humorous demeanor has also returned, and it's very present in Issue #9. I love Green Arrow for these things.
All of that said, I'm having trouble dealing with Arrow's constant crusade with environmentalism. From the very first issue, he says in his inner monologue that he thinks of himself as a social justice warrior, and yet, I don't see him doing anything about social justice. In the first two issues, he hands out money to homeless on the street like it's no big deal, and thankfully Dinah pointed out that that does nothing for social justice. But after that, the political point of contention has been about the environment. In Issue #7, the adventure begins with Ollie and Emi taking down angry loggers who are losing their jobs thanks to protests about saving the home of the spotted owls. And now we have a story about a lone island with a tribe of people who have developed green technology.
Now before I'm accused of hating the environment, let me explain why this particular issue has made me roll my eyes the hardest.
No one will believe me, but I am all for protecting the environment. I fish stuff out of our trash at home (which is absolutely disgusting when you live with three boys) to ensure we haven't missed stuff for recycling. I hate it when forests are cleared for a new strip center. I get absolutely irate when I find trash littered all over the local lake or on the beach. I'm all for coming up with solid green energy ideas that actually work and don't break the bank.
All of that said, I'm just as tired of stories that point to big and bad corporations as the reasons why we can't have nice things. It's overdone. It blanket bashes all big companies, and I hate such broad generalizations. It additionally comes across as yet another voice screaming into the void and yet not doing anything themselves to help make a change. The only reason why I'm not canceling my subscription right now is because in the final panel, as Ollie, Diggle, and Dinah escape the island, Ollie says he knows he can make a change back home.
I'm not sure how he exactly will accomplish this with all of his money gone, but I want to see what he will try before I give up on him. Yes, I am tired of the comic constantly shoving my white privilege in my face, as this comic often stereotypes white people as heartless, racist monsters. I know I'll be hated for this, but I find that to be just as divisive as being racist. Let's come together instead of pointing out why the other is so wrong all the time, okay?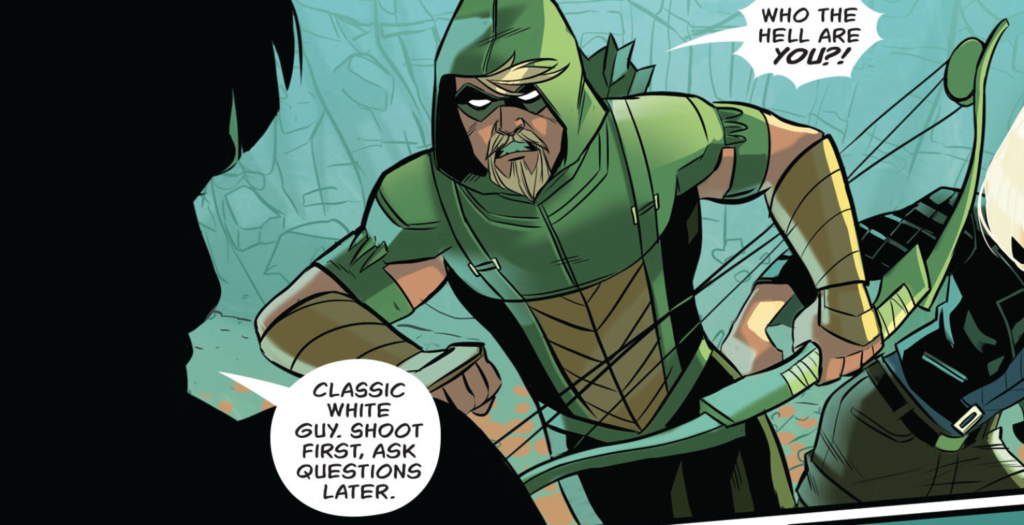 And sorry Mr. High-and-Mighty Tribesman, but you are rather white in this comic as well.
At least the banter between Green Arrow and Black Canary was incredibly amusing. It made up for the hackle-raising the panel above created.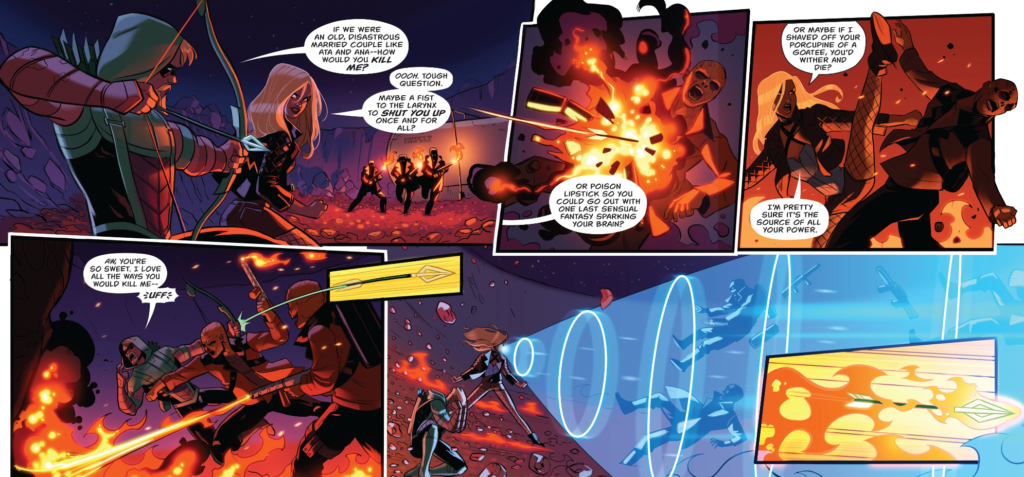 Author: Benjamin Percy
Artist: Stephen Byrne
Publication Date: 10/19/2016
Publisher: DC Comics
Acquired via Purchase
Our Rating: meh