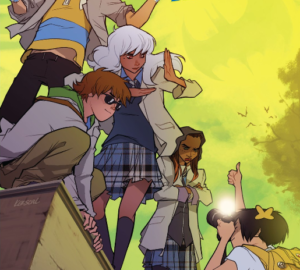 Throughout Gotham Academy's run, I've often lamented that it's really two series as war with one another. On one hand, there is a delightful, Nancy Drew mixed with Scooby Doo mystery-solving adventure, and the other there is a high school drama within the DC/Gotham universe. The former is when the series is at its absolute best, and the latter is when the series falters and missteps horribly. Gotham Academy: Second Semester #2 is one of the issues that manages to bridge the two series, and it has, predictably, mixed results.
On one hand, we have yet another mystery for the kids to solve, and that's great. Nothing is better, in this series, than when the Detective Club is working together, despite their myriad personalities, and solving a mystery that could only take place in a city as morose and bizarre as Gotham. In this case, it's a mysterious witches club/coven sprouting up in their very own Gotham Academy.
Maps is, of course, her chipper self, looking for clues and desperately trying hold her friends together. Which is where the other portion of the story comes into play. As was established last issue, Gotham Academy: Second Semester #2 continues with Olive and her new, wholly unlikable roommate, Amy.  Amy continues to pull Olive away from her established friend group, though whether or not she does so maliciously remains to be seen. It's almost as if the authors want to soften this aspect of her character by having Pom also reject her presence within the group.
On one hand, as a girl who was in boarding school in high school, I understand the dynamics at play here. Roommates share a special bond, but so do our cliques of friends. Often these two can come into direct opposition of one another. I get that, and I guess that might be interesting to read if I was 20+ years younger. But as an adult, reading the series, it feels so forced and out of place, when the heart of the issue is a series of lighthearted mystery adventures. Yet again, I find myself wishing the series would cast aside this high school social drama rubbish.
That aside, in addition to the cult, there is the continued mystery about Pom's true nature and intentions. While at first she just seemed a weird gothy chick, it is continually hinted that there is something darker and more sinister about her. As she continues to search for more information about the mysterious Arkham Asylum symbol found throughout the school, she continues to reveal a dark underbelly. It's potentially interesting, but given how slowly the authors are revealing it, I kind of wish they'd cut to the chase, already.
Overall, Gotham Academy: Second Semester #2 instills me with hope that maybe, just maybe, we're back on track to continue the  mystery series that makes it such a fun read. If we can keep the Gotham ties (read: Batman) at bay, and downplay the high school social drama, it's possible the Second Semester may end up returning the series to its joyful tone.
Gotham Academy Second Semester #2
Author: Brenden Fletcher, Becky Cloonan, Karl Kerschl
Artist: Adam Archer
Publisher: DC Comics
Publish date: 10/12/2016
Acquired via Purchase

Our Rating: Yep